For a few months now some of our clients asked us to add more flexibility to users perimeters. We took the point to some of you to get some feedback and it appears that we could improve the way Koesio was handling this part.
We were quite happy with the notion of Perimeter we built in Koesio from the start so we decided to capitalise on it. Until now a Perimeter was, to simplify, a collection of entities and its sole purpose was to accelerate the access management (ex. If I had to give access to the same group of entities often I would create a perimeter with those entities and allow the users to access this newly created perimeter).
The new perimeter more information attached to it such as Business Units, Countries and Purposes on top of the usual entities and perimeters. This new perimeter aims to ease the access management for our customers that deploy Koesio in all their entities by offering much more flexibility.
That means that you can now define a perimeter A with:
SOCIETEY

: A

BUSINESS

 

UNIT

: Energy

COUNTRIES

: France, Italy

PURPOSES

: All
And a perimeter B with:
SOCIETEY

: B

BUSINESS

 

UNIT

: Transport

COUNTRIES

: All

PURPOSES

: All
If you give access to those two perimeters to a user he will be able to see all the guarantees matching the first perimeter and all the guarantees matching the perimeter B. As usual a Perimeter has no sense (Issued/Received) but you can set what type of guarantees a perimeter applies on when you attribute a perimeter to a user.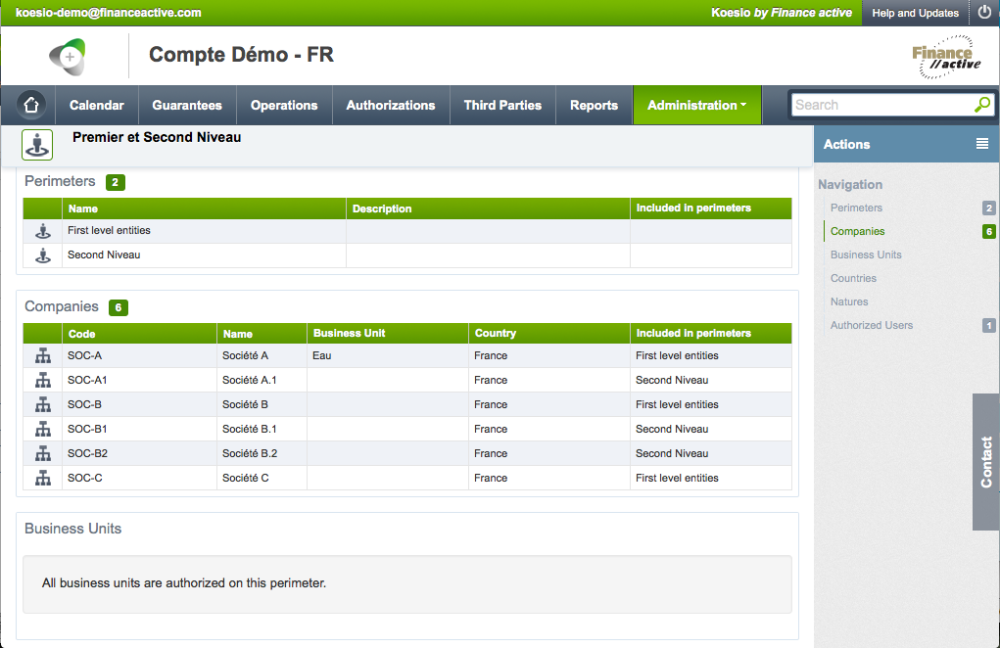 The separation of the access for the Issued / Received guarantees is an option that we can activate for you. Feel free to ask your consultant about it should you need this feature.