Our new Notification Module is here and we hope that you will the flexibility it brings to you daily use of Fairways Guarantees. It aims to simplify the use of Fairways Guarantees by letting the system push you the information you need instead of connecting to it and navigating to the right page to see if anything happened recently. It builds on the notification mechanism we had previously but adds mainly two things (along with a full technical overhaul): flexibility and real-time notification when pertinent.
First things first the notification now have their own section in the left menu (and thus are not in the preference page anymore).
You will as usual see all your configured notifications in the notifications page (users having configured old notifications should see them migrated to this new page):
When on the notifications list you can create you own notifications by clicking on the "New Notification" button. You will then have to fill in the information below:
The Name of the notification that will be use as title of the notification mail
The Event to monitored (click on the list to see the available events :-)
The "Periodicity of the notification (real-time when it applies, weekly, monthly)
Some optional Parameters if the event type requests any
An optional Filter to narrow your scope of analysis (you might want to monitor only > 

EUR

100 000,00 guarantees for example)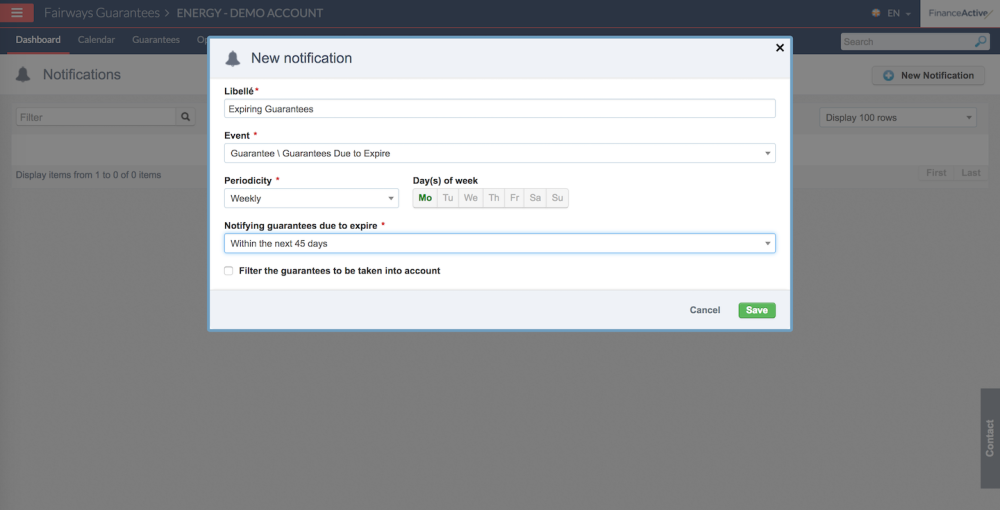 You can choose to be notified in real time for some events / guarantees. Below is an example of real-time notification of any creation/modification of payment guarantees whose amount is greater than EUR 100,000.00.
And you can have multiple notifications for the same event just by modifying the periodicity and/or the applied filter. As an example we do the same notification as before (any creation/modification of payment guarantees whose amount is greater than EUR 100,000.00) but want a monthly mail summary the first day of each month.
And for our users having access to the Requesters Module an additional event can be tracked: New Request. This event will let you track new request of guarantees so that you can get the information in your mailbox instead of tracking it in the system:
The mail you will receive for a real-time notification will look like the one just below. Weekly or Monthly notifications will have another design since they, most of the time, list more than one guarantee.
Please note that we will keep working on this new Notification Module in the near future by at least adding events. Words are that the fees payment are next but we will see…