In order to improve your user experience and to allow you to get the most out of Fx'ent, we strive continuously to enhance ergonomics and ensure exceptional ease of use.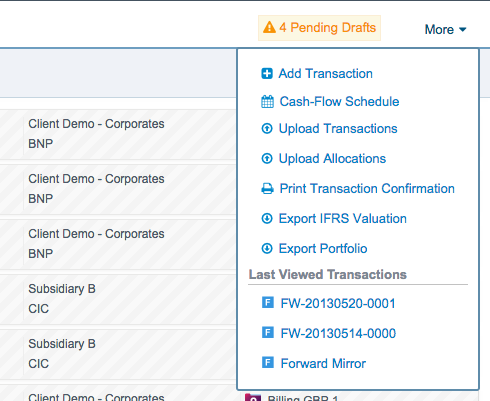 To achieve this aim, we replaced in each section our old system of menus with a simpler "More" button, which provides access to a drop-down menu displaying all the features related to the section in question: for example, it enables in your portfolio to add and export transactions, view schedules, export valuations, etc. In the same way, in the exposure section you will be able, through this menu, to add exposures and risks, upload new allocations, manage bank accounts, etc.
In addition, we added in the same menu a "History" feature, which allows you to easily and quickly retrieve your recently viewed items, be they transactions, exposures or risks. This feature proves to be very useful when editing, reviewing and analysing data related to your situation.
With regards to the old "Report" module, we decided to remove it and to integrate most of the features in the new analysis tool, with only two exceptions: the "Cash-flow schedule" and the "IFRS Valuation", which you will find in the drop-down menu of the "Portfolio" section and to which you will be able to apply filters in order to select the transactions to assess.
Finally, we introduced a new step in the standard transaction workflow: from now on, all the new transactions will be first added as drafts in a dedicated section of the portfolio ("Pending drafts"). You will be then required to validate them in order for them to be taken into account in your actual portfolio.