First things first, you seem to like this new feature and comments are, so far, very nice. Obviously you are well aware of what the Analysis module brings to Koesio and how it will improve your day-to-day handling of guarantees. We are really delighted and it boosts the work of all the team on this new feature. Thank you!
Then we received feedback on bugs (sometimes weird!), evolution requests, questions and so on… The whole point of this Beta version is that the more feedback we get, the more features will match your needs! Let us know what you think through the Contact form for example!
Among others things, since the initial release nearly two weeks ago we have:
Added the outstanding amount as a ratio indicator
Added exchange rate indicators (both on the effective and analysis dates)
Fixed indicator computations when they are used as detail columns
Formatted properly grouping information when exported to Excel©
Improved the status management in the filter section (see below for further information on this topic)
Fixed the bug which prevented users from editing details of any item but the first one in templates and report libraries (and the displayed modification date is now the real modification date and not the current date :-)
About the status of your guarantees:
More often than not, your reports are about your current guarantees. To this end, you have to use a filter stating that you only want to display the guarantees that are "EFFECTIVE" or "RELEASING" at the analysis date. Luckily, it is as easy as adding a "[Status][among][EFFECTIVE, RELEASING]" criterion in your filter. If you don't do that, you will have past or forward-starting guarantees impacting your reports.
The screen-shot below displays a filter that will only:
Keep the issued guarantees
Keep the effective OR released guarantees at the analysis date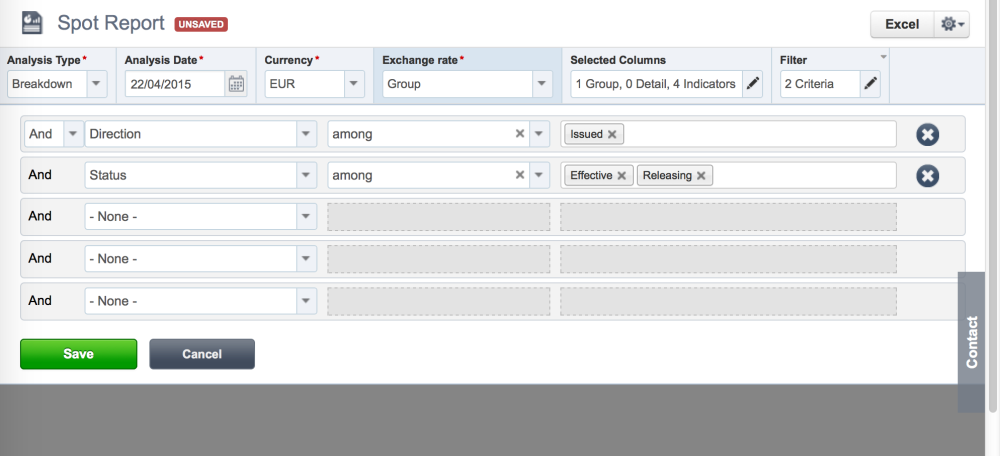 With this in mind, you can edit a report like the one below in a minute!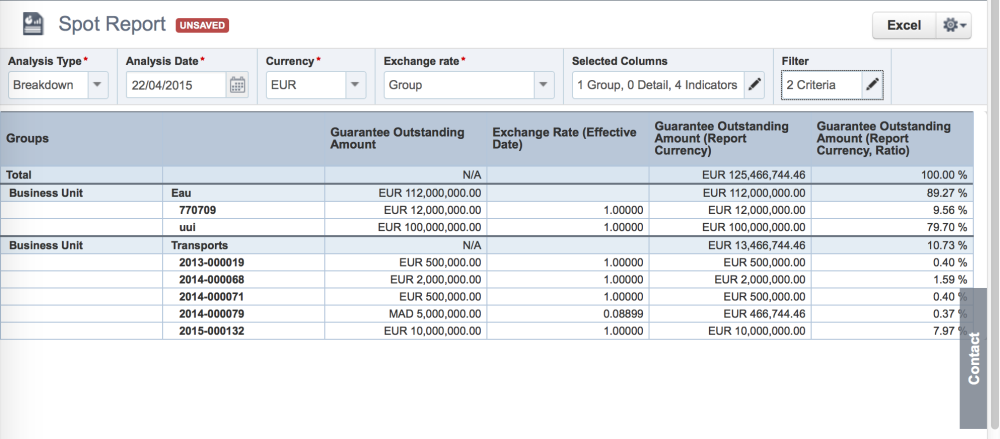 Known issues (we're working on them…):
The excel export is not exporting the "details" columns

Workaround: None! We're working on it ;-)