By popular demand, and to speed up standard reporting across a company, we added template sharing in the new Analysis Module. This feature allows you to define public templates that will then be available to all your colleagues. Sharing a template is a good way to save time on template creation (the report is designed once for everybody) and to ensure that reporting, in its construction, is coherent across your organisation.
Of course template sharing is not mandatory and you can elect to keep your templates private or, should you want it, accessible only to some of your colleagues. The choice is yours and is a template-by-template one. By default a template is private.
To sum it up you can decide whether a template is:
Private: your template is only available to you
Public: your template is available to all users (and FA for support purposes)
Restricted: you decide which users of you organisation should have access to your template
How to specify the sharing options?
You just have to click on the small lock present on the right of the template card in the listing page. A closed lock means that your template is private while an open lock means that it is shared (either restricted or public). We added to the "Sort by" criteria the possibility to sort by "Owner" or "Sharing options". When a user is sharing one of its templates with you a specific icon (a group of 3 people) allows you to identify them and a tooltip on this icon will let you know who is sharing this template with you.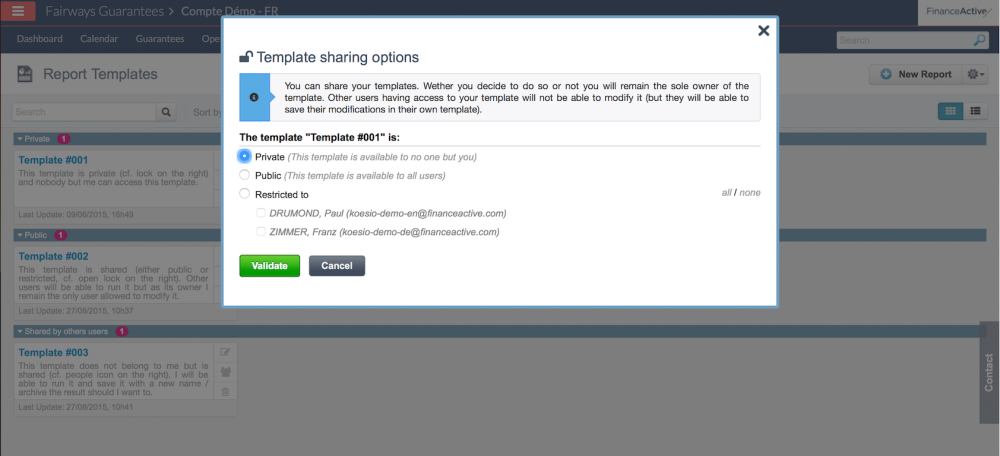 Who can modify my template?
Whether you decide to share a template or not you remain its sole owner and nobody but you will be able to modify it. All modification made on a template not owned by the user (modifying the analysis date, adding grouping column, editing the filtering criteria…) will lead to the creation of a new private template. The user will then be able to share it should he want to.
What about the security of the information when sharting a template?
The security is always applied when running a template. That means that if you, having access to all the organisation guarantees, are sharing a template with somebody with access to only to a subset of the guarantees, the results displayed to the said user will only refer to its perimeter(s).
Last but not least sharing is also available on archived reports! The only difference is that security can't be applied for shared archives. It is up to you to check if sharing the information is ok or not (i.e. you are sharing a document and we have no way to know what should be displayed for it depends of the document content itself)
Quick summary:
Analysis templates and archives are now shareable
Perimeters security is applied when sharing templates
No security is applied on the content of the shared archives
Sharing options are: private, restricted (a list of users) and public (everybody)
You remain the sole owner of your templates (i.e. no one but you can modify it)
Sharing is only possible with user having an active Fairways Guarantees account