While working on the requester module it appeared that our guarantee creation dialog was more and more difficult to modify and maintain thus slowing us down to release new features. As we added more and more features to the service the code base for this dialog grew more and more complex and considering what is ahead of us (with the Requesters Module or the support of Intra-group Guarantees for example) we took on us to rewrite our creation dialog from scratch. Actually we created two of them: one each for issued and received guarantees.
Those new creation dialogs are now dedicated to their guarantee type, either issued or received. They are easier to use, simpler to maintain and will l allow us to build on them to offer you new features during the creation process.
We added our first two evolutions in our new dialogs as you can no attach up to two numerical documents and the selection of the entities is now done through a unified select box displaying all the useful information (when until now we used to have separates select boxes for the code or the name of the entities).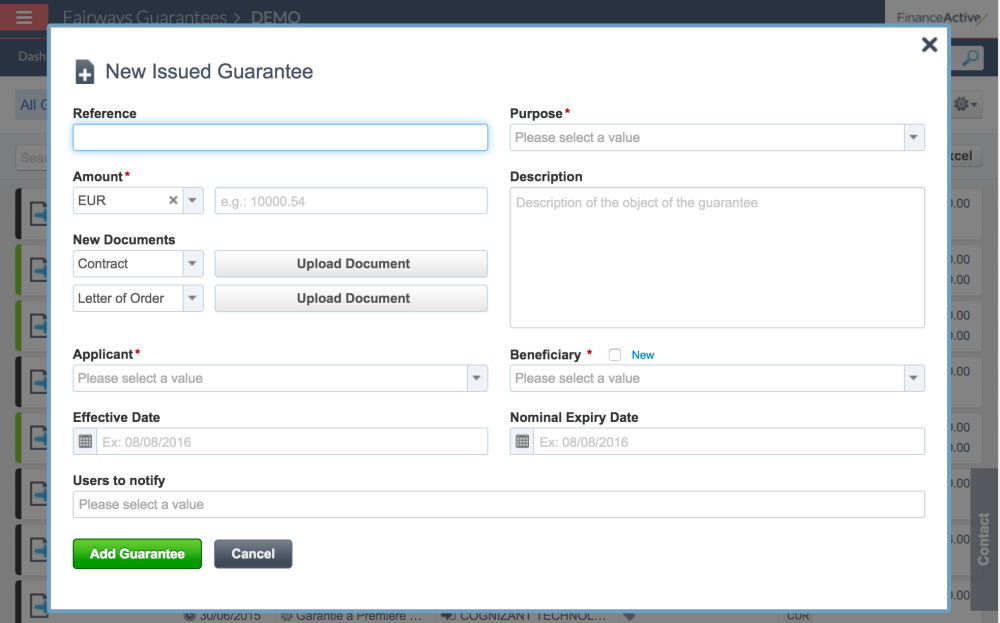 What is changing for you in your daily use?
Not much actually as guarantee creation should be both simpler and faster using the new dialogs. J*ust click to add a guarantee and select the desired type. Once the dialog is displayed you should be right at home!*

Note that if a user is only allowed to create one type of guarantees (either issued or received ones) the creation dialog will directly open the dialog for the authorized type skipping the "type selection" step.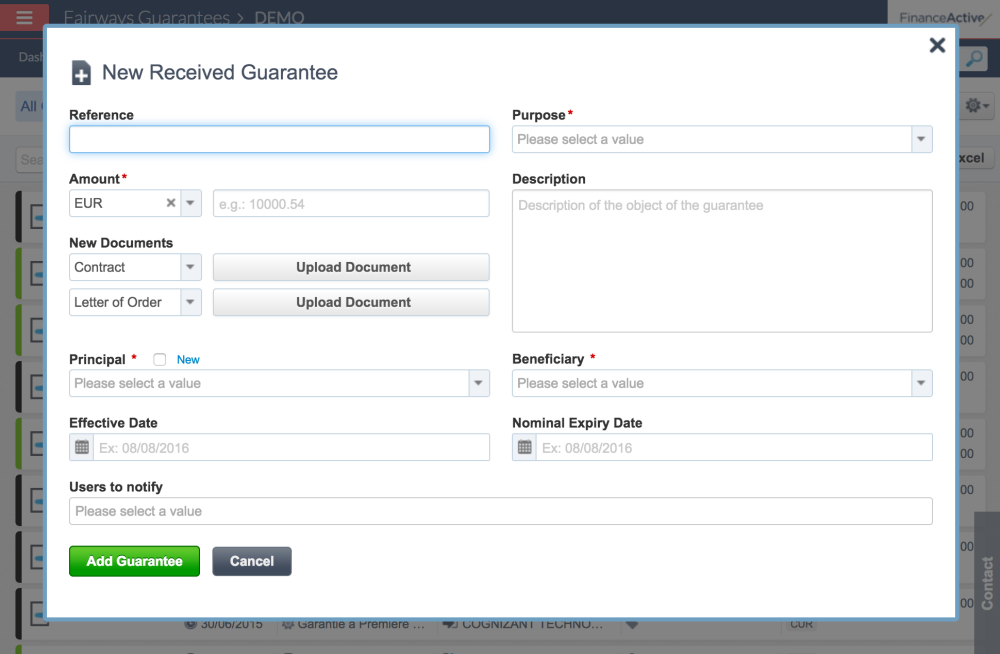 As we advance on the requester module we will keep redesigning some of the integration features. We will, in the next release, r*edesigned guarantee massive integration by splitting the integration of issued and received guarantees*. Excel Templates will integrate their own documentation and will be simpler as they will focus on one type of guarantees only (either issued or received).
As usual let us know what you think of that new dialogs using the contact form on the right!