In our last post we talked about the split of issued and received guarantees integration. Tonight we keep working on the revamping of our back office features by delivering the same split for the massive integrations of guarantees.
How does it works?
Pretty much the same as before but the excel templates used for the massive integrations are simpler, cleaner and lighter. The main difference is that you will now be asked to select whether you want to integrate issued or received guarantees (see the capture below). The rest of the process remains the same: you fill the needed information in, preview the results and, when ready, confirm the integration!

Once the type of guarantees selected and the integration template generated you will notice that the excel themselves have been greatly improved:
A documentation tab detailing each field has been added
Numerical IDs have been discarded and replaced by labels
Mandatory fields are clearly identified and focus on the guarantee type
Only information pertinent to the selected type of guarantees are presented
Reference data have been moved out of the integration template to reduce its size (see more on that below)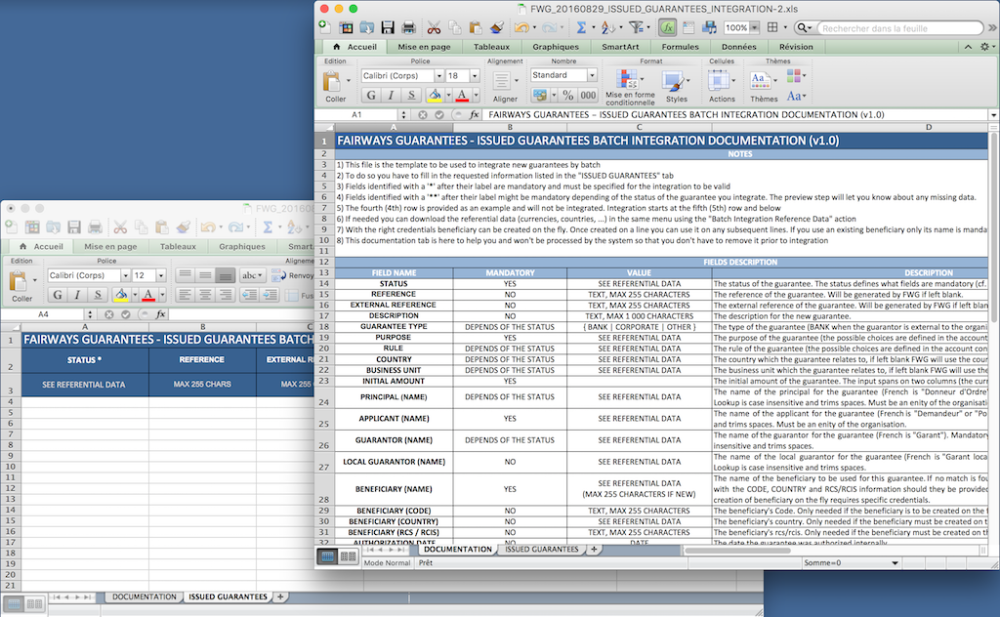 Last but not least we did worked on the integration process itself by:
Adding clearer and more specific validation messages
Managed to handled some errors specific to each guarantee type
Improving the performances of the validation and integration steps
Users with the right to integrate only one type of guarantees (either issued or received) will access directly the integration process page for the type they are allowed to managed
We will keep reworking our integration process in the future but those changes were mandatory as they pave the way for the soon to be released lifecycle customisation that, in turn, will allow us to deliver the long promised (and awaited) Requesters' Module. Keeping a single integration process for both issued and received guarantees was leading to an overcomplicated feature for our users (both internal and external) while, at the same time, making the evolution of those parts more and more difficult. As a side note this split will let us support the integration of intra-group guarantees (support for those guarantees are coming in 2017!) with the very same process without adding complexity to user having no such guarantees.
As usual let us know what you think of this evolution!