It is now possible, for each customer account, to add new document types or to hide existing ones. This configuration enables Fairways Guarantees to better match your workflow, when you need to add specific documents with a specific label or do not want to see all the existing ones when you only need a few of them.
As a reminder, the existing document types are the following:
Act or Guarantee
Amendment
Approval Minutes
Bank Statement
Build Amendment
Build Contract
Build Permit
Collective Account
Contract
Counter-guarantee
Document Type
Financial Fees
Group Agreement
Guarantee Text
Letter of Order
Other
Release
Request Form
Signing Authority

SWIFT

 Document
Worksite Guide
Worksite Order
Worksite Order List
Below is an account with only five document types allowed so that the list is simpler to use each time a document is added.
Note: The document types are now sorted alphabetically.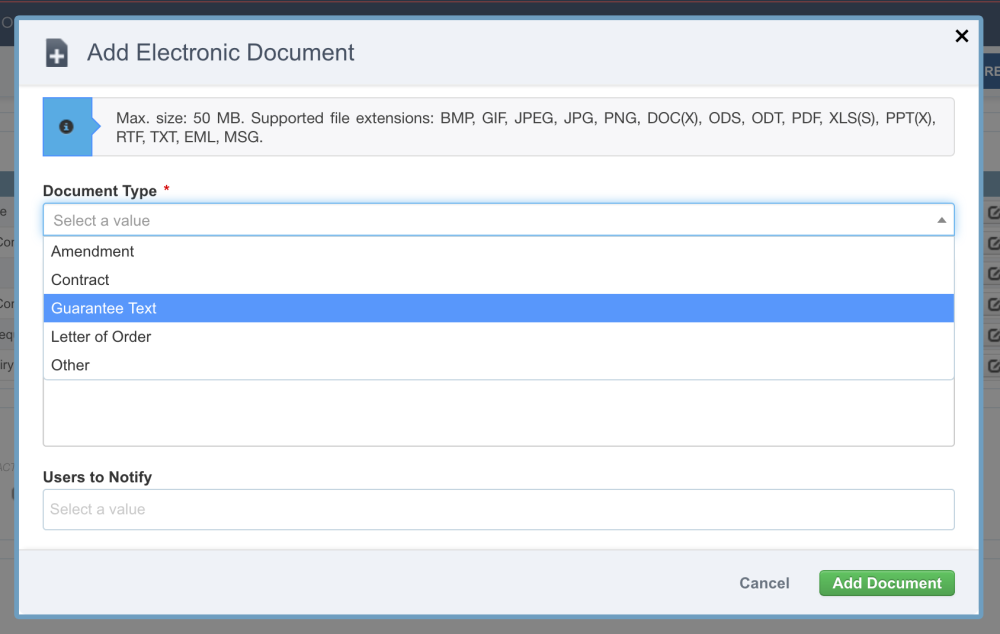 Adding new types requires a small validation by your consultant, but hiding existing ones (as long as they are not already in use in your account) is purely a configuration setting. In both situations, the process is the same, please contact your consultant!