The validation process of guarantee requests is usually lengthy and tedious, involving many people. Simplifying and smoothening this crucial step were a key issue in order to optimize guarantee management.
We have therefore strengthened Fairways Guarantees' Requester Validation module with the following features.
New Status: CONTROLLED
This new status enables you to identify controlled guarantees, i.e. guarantees considered as ready for validation. Depending on your organization, a local manager or any other person responsible for compliance verification can be assigned this step.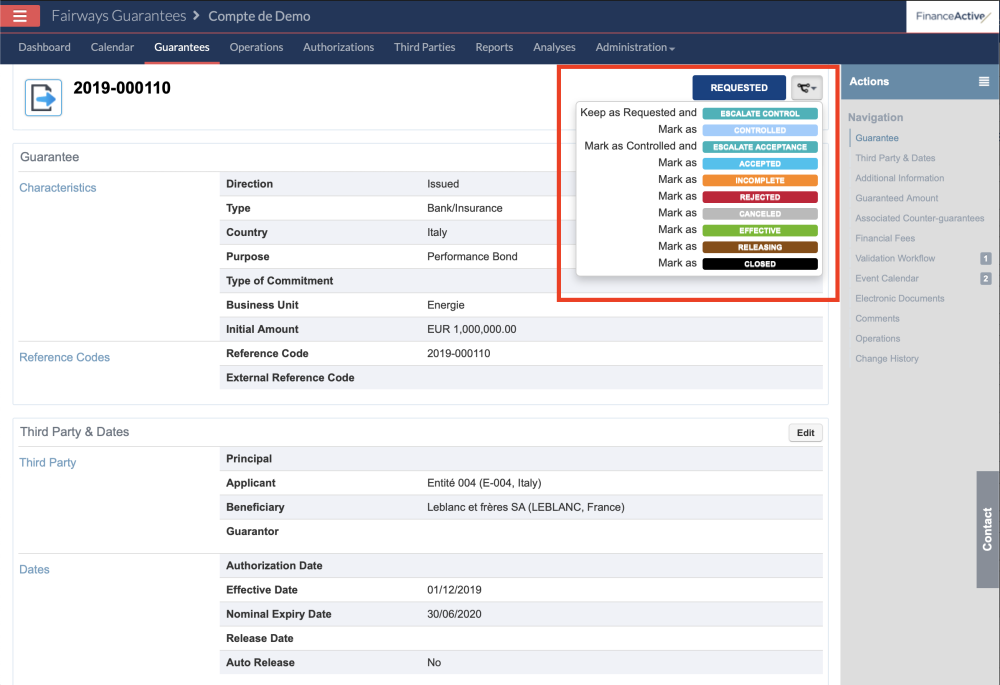 This status occurs between the REQUESTED and ACCEPTED statuses. If a user has the rights to change the guarantee status from REQUESTED to CONTROLLED, AND from CONTROLLED to ACCEPTED, then that user can directly change the guarantee status from REQUESTED to ACCEPTED.
Escalate Controlled and Accepted Requests
When it comes to control and validation processes, authorization rules can apply to users. For example, a user can be allowed to accept guarantees, but only those capped to €100.000.
To meet these complex management processes, users can now escalate the control/validation requests to others.
At the moment, users have to manually escalate the requests, it means users should know their own rights and limitations. However, we plan to develop validation rules using multiple criteria: user role, entity, purpose, amount, life duration, country, etc.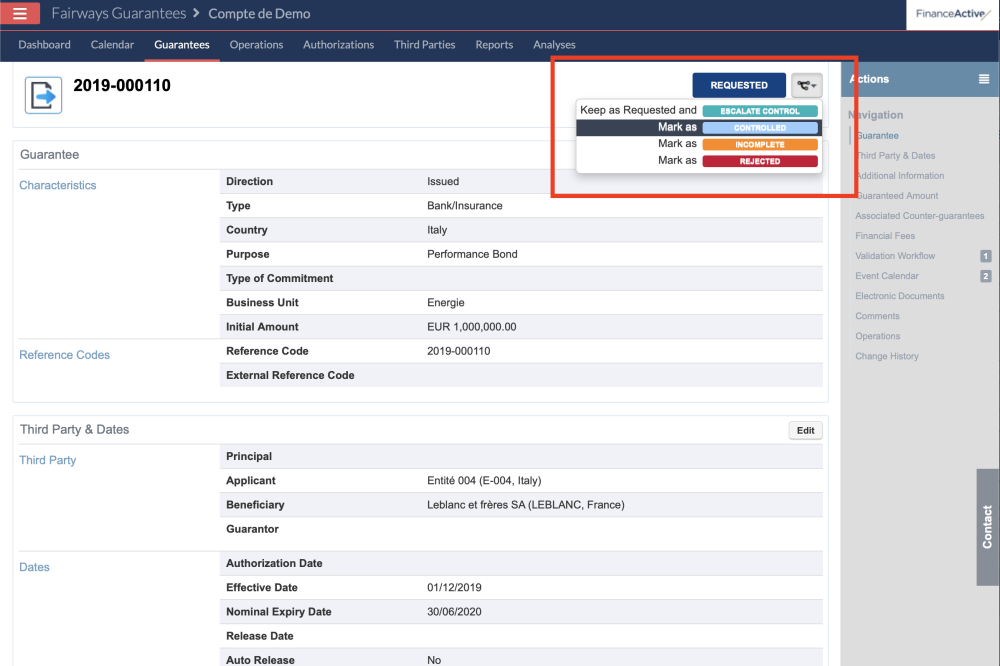 Enable/Disable Guarantee Statuses
You can now enable and disable some guarantee statuses to reflect their real lifecycles, and therefore only display relevant statuses for your organization.
The REQUESTED, EFFECTIVE and CLOSED statuses remain mandatory. All the other statuses are now optional.
Do not hesitate to contact your consultant so you can configure the statuses together!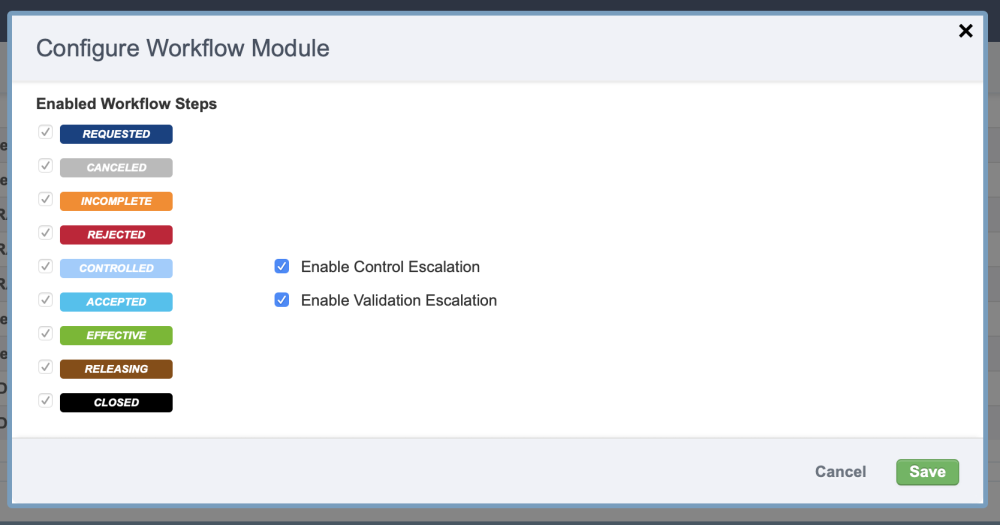 Popin for Editing the Guarantee Status Enhanced
The form for editing the guarantee status now includes improvements easing the process. You can now:
Add comments
Attach e-documents
Select one or multiple users to notify
The request reporter, i.e. the user who has created the request, is automatically added to the list of users to notify, so they will stay informed of any changes. To keep the list relevant, for example in case the request needs to be escalated, the list only suggests users who are allowed to do an action on the guarantee.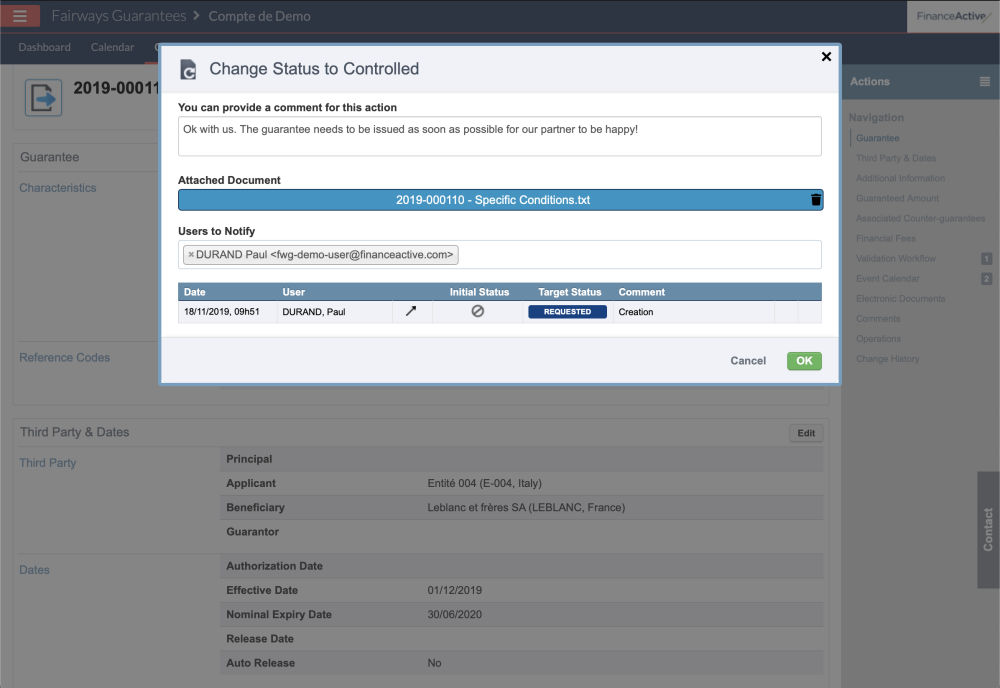 Finally, a new validation workflow panel now displays in the guarantee profile and in the status change form to help you manage the guarantee. This panel includes a history table detailing the guarantee changes: actions performed, comments, documents and users to notify.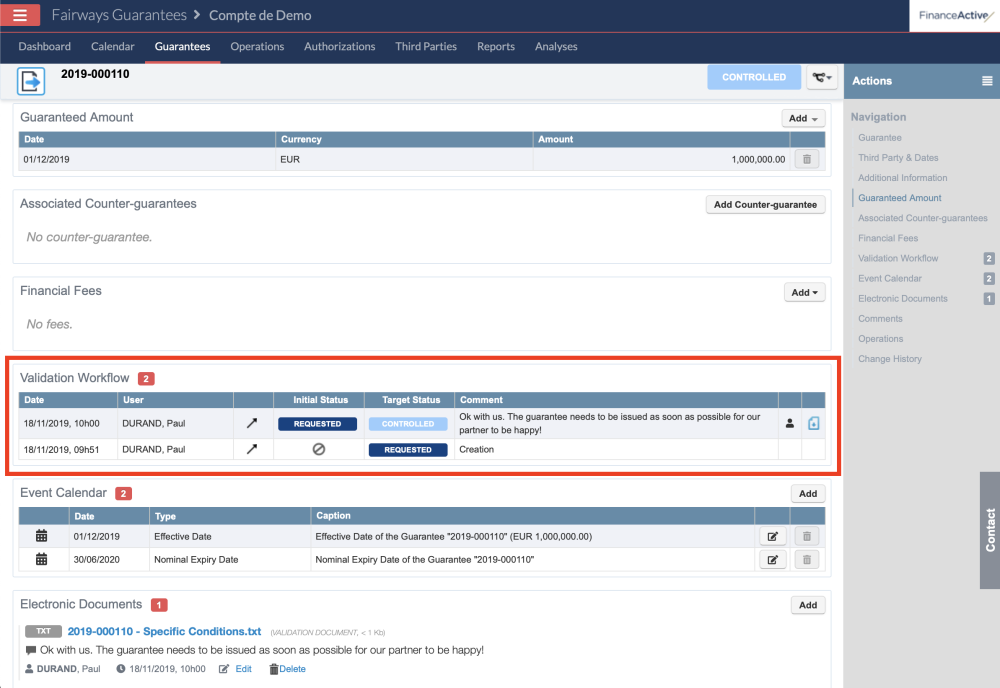 New Report Indicators
A few of you would like to generate reports that include validation details. We therefore added the following indicators:
Controller: Controller's name and email address
Control Date: Date at which the guarantee is marked as Controlled
Validator: Validator's name and email address
Validation Date: Date at which the guarantee is marked as Validated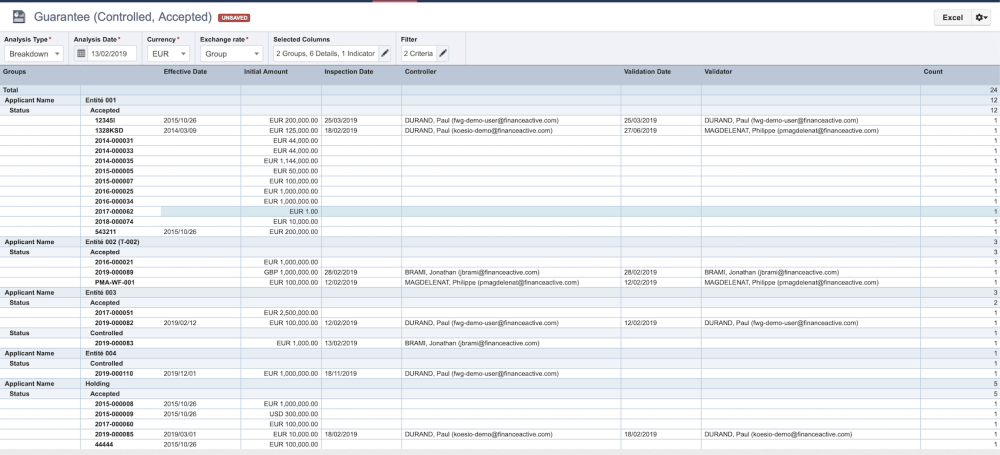 Future Enhancements
We will keep improving the Requester module, with the goal of easing the guarantee validation process. Most of the features released should bring you closer to this goal. However, some processes, for example, the escalate feature, still require manual actions from users.
We will be then developing authorization rules so you can define your own validation model and capitalize on the actions, including escalates.
A great challenge awaits us in 2020.