Fall has come and here we are, ready to present the new Fairways Debt release! 
At this time, special attention is paid to the new deals introduced (cash facilities and unmanaged loans) as well as to those expected to come soon (credit facilities). We do not forget, however, all the other newly developed features, which are essential to allow us to innovate and offer you the best possible solution to manage your financial deals.
Do you want to learn more about what's new in Fairways Debt? We are proud to invite you to discover our last updates below!
New Deals
Cash Facilities
Fairways Debt is now able to support a new type of deal: the cash facility line (or internal credit line). This agreement established between a financial institution – usually a bank – and a customer, sets a maximum loan balance that the borrower is allowed to maintain for a specific term. The borrower can draw down or pay back on the line at any time between the agreed effective date and maturity date, within the fixed maximum amount. The net position of a cash facility can be either credit or debit. In other words, a user can book a payback without having any drawings.
To add a cash facility, you just have to follow the standard workflow and provide the specific settings for the deal: maximum outstanding amount, capitalized interest option, effective and maturity dates, credit and debt indexing, payment frequency, etc.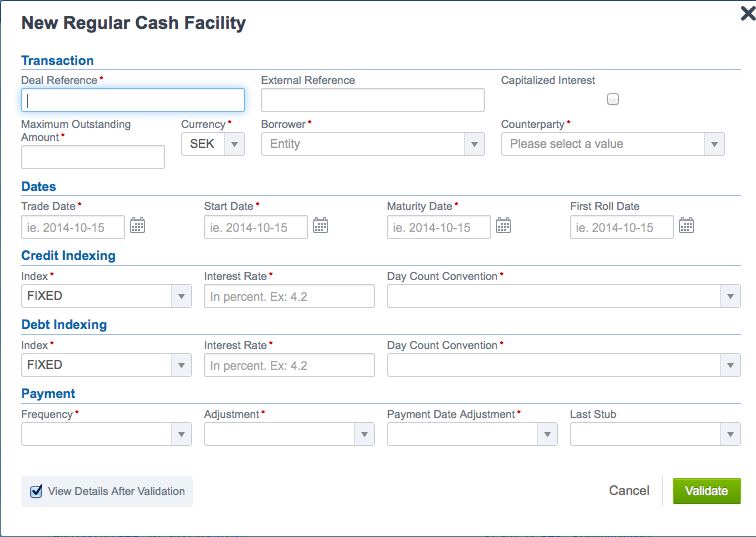 Unmanaged Loans
This category has been developed to enable the management of all the loans whose schedule cannot be processed automatically by the platform system. After creating the deal through the standard workflow, the user is then required to enter and manage the loan schedule manually, either through a manual update or by copying and pasting data from an Excel file.
This type of deal has been introduced in order to provide an even more versatile and customizable tool, which allows to add and manage specific loans according to your needs and, at the same time, is able to take them into account while calculating consolidated indicators.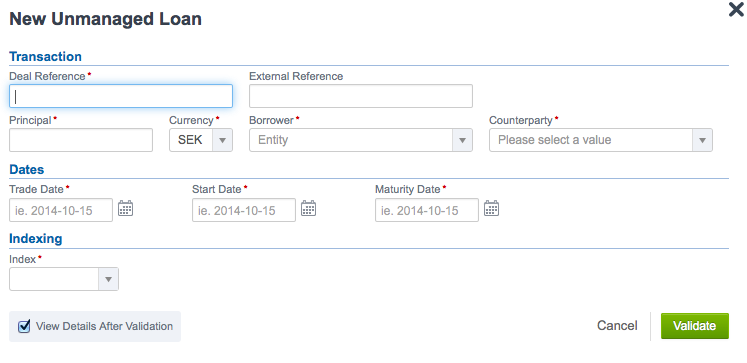 Credit Facilities: A New Deal Type Coming Soon…
Fairways Debt will soon be able to support a new deal type: the credit facilities. This agreement allows the borrower to draw down funds according to their own needs, up to the agreed amount and during a specific term. In credit facilities, each drawing constitutes a standard loan with its own characteristics (start and maturity dates, payment frequency, interest rate, etc.) and workflow (for example, a drawing can be early repaid). The associated fees (usage and non-usage fees) will be supported as well.
New Features
Publishing Templates
With this release, Fairways Debt will enable to edit printable PDF documents (for example, payment invoices and deal confirmations) according to specific custom templates.
To do so, all you have to do is to create in the admin area (global settings) your own publishing templates, by specifying whether they are to be applied to deals (for example, a confirmation template) or cash-flow schedules (payment invoices). You will be able to edit your template through an efficient and easy-to-use text editor, where you can, in addition, enter standard general information (deal characteristics, indicators, logos, etc.) through the "Insert Data" menu.


Once the template has been created, you will be required to associate it to a particular type of deal (standard loans, swaps, etc.). At this point, you will just have to go back to your portfolio, select a deal and generate your PDF file (through the "Actions" menu if you want to print a deal confirmation or by clicking on the "Generate Invoice" icon of the required schedule line.


A New Entry in the Market Page: The Swap Rate Curve
Fairways Debt introduces in its market page the brand-new swap rate curve, which further complements the information provided to support your financial management activities. A drop-down menu allows you to select the currency for which you wish to display the curve and related details.
A New Set of Indicators on Derivative Fees
From now on, all the premiums associated with derivatives (which are managed as fees in the platform) will be taken into account in the assessment of your position through a new set of indicators in the "Report" section. Please find below a list of the said indicators:
Accrued Fees: pro-rata amount of the total amount of fees. It is calculated in a similar way to accrued interest.
Fees paid over the Period: aggregate amount of fees paid during the analysis period.
Accrued Fees over the Period: fees charged for the analysis period.
Financial Costs: amount including the interest expense and the accrued fees over the period.
Effective Rate: financing rate (including fees) for the analysis period.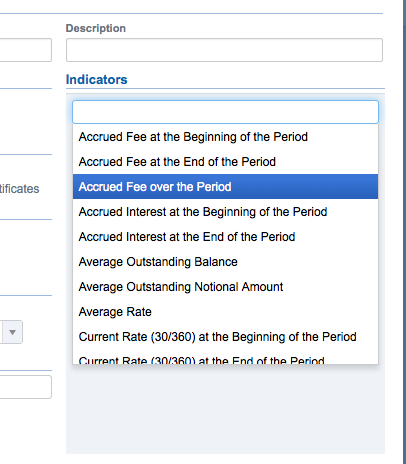 Market Simulation: A New Feature Coming Soon…
A new outstanding feature is expected to be introduced in the coming months: Fairways Debt will soon provide a market simulation tool, which will be associated to the analysis and report sections and will enable users to manually apply a shift to market data (in basis points) in order to simulate different market scenarios.
Other Updates
New Indicators
Fairways Debt is now offering two new key indicators: the basis point value and the market rate (or replacement rate).
The basis point value represents the impact on Mark-to-Market valuation due to a one-basis point change in the interest rate.
The market rate (or replacement rate) shows which would be the loan interest rate if the deal was negotiated as of today.
Last Refresh Time Available for the Yield Curve of the Market Page
This item displays the last time (hour) that market data was retrieved to calculate the Mark-to-Market.