June 2015 – So here we are, at the end of June, with everyone waiting for the summer (and holidays!) to come… But wait, not that fast! First, it is time for us to unveil the new Fairways Debt's release: advanced features, exceptional improvements and outstanding solutions, always designed with a view to providing the most efficient management tool.
Take a look below and enjoy the new release!
New Features
Document Module
The new document module, a powerful tool designed to streamline electronic document management, is now available upon request. Thanks to this feature – which can be configured according to your needs and guidelines – you will be able to import, store, sort and search for documents automatically in the system, with a sharp improvement in workflow efficiency and time savings.
How easy would it be to attach documents to the relevant transaction, or to find a specific file through an advanced search engine, instead of spending time looking for it somewhere in some computer of your organization? Well, this is exactly what the new module does for you. Each transaction, bank and entity has its own document section, where you can upload, edit and download files in different formats.

Moreover, there is a dedicated section, which can be accessed through the main navigation bar, where users can sort and search for documents by applying standard or custom filters.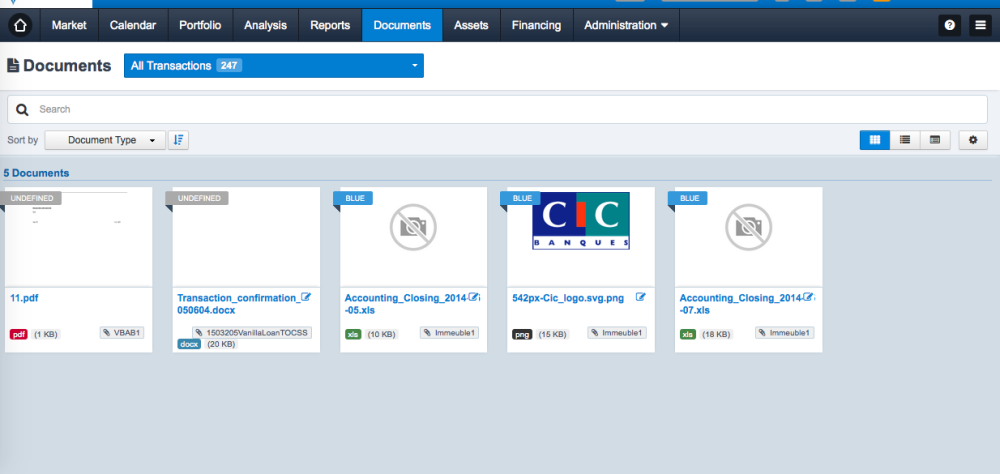 Finally, the document module configuration page allows to define specific and custom settings for document types and metadata.
Portal Version
Fairways Debt is now available for consultation in a read-only version that you can activate depending on user profiles. Thanks to this feature, you will enable specific users to view and browse some pages, even if you do not want to grant them full access and rights in the system. In particular, they will be allowed to see all the information available in the account dashboard, the market page, calendar, portfolio, the document section and the admin area, but they will not be able to enter or edit data. In this way, Fairways Debt reveals itself to be a useful informative tool for internal or even external users!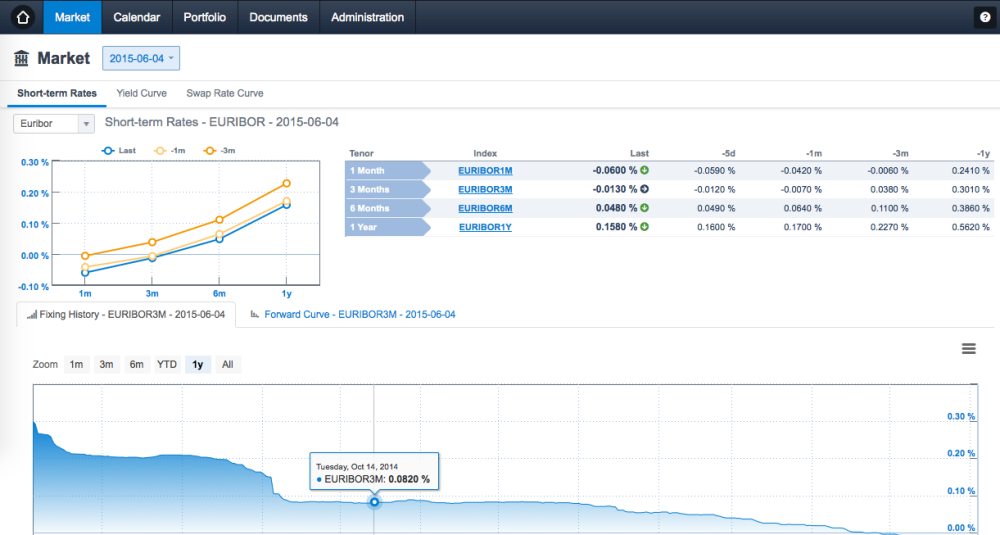 New Transactions
Cancelable and Extendable Swaps
As promised, extendable and cancelable swaps are now supported by the system. These options allow respectively to extend or early terminate swaps at a given date: to enable them, all you have to do is to select the option you wish to activate ("Swap Type" field of the interest rate swap form) and fill in the other relevant fields: "Extendable By" and "Extended Maturity Date" for the extendable swaps and "Cancelable By" and "Cancelation Date" for the cancelable swaps.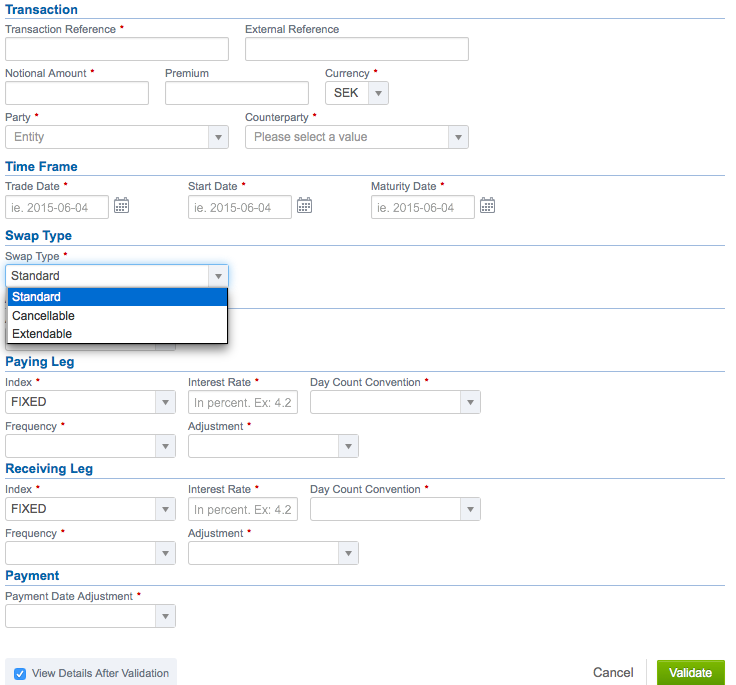 Further Development of the Issuing Programs
Fairways Debt provides comprehensive management of bonds that are issued as part of a program. The following types of bonds are now supported by the system in the issuing programs: European Medium Term Notes, Medium Term Notes, Schuldschein, Certificates of Deposit, European Commercial Papers (to be selected while creating the new program).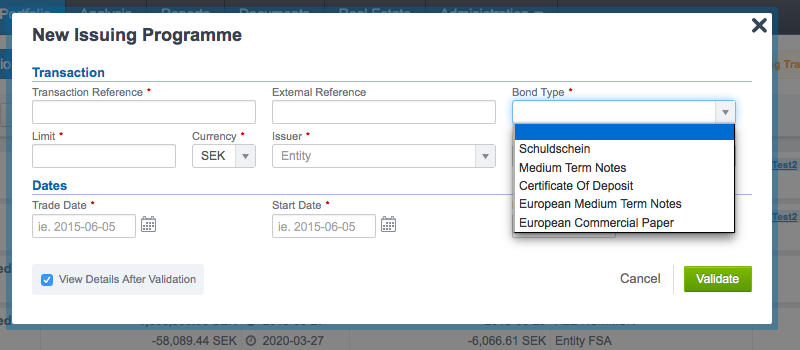 OTC

 Certificate Programs

Fairways Debt is now able to support a new type of transaction: the OTC certificate program. An OTC certificate program allows to define a financial envelope to issue any number of OTCcertificates having global characteristics in common. OTC certificates are short-term zero-coupon transactions, which are negotiated with a bank or an internal counterparty.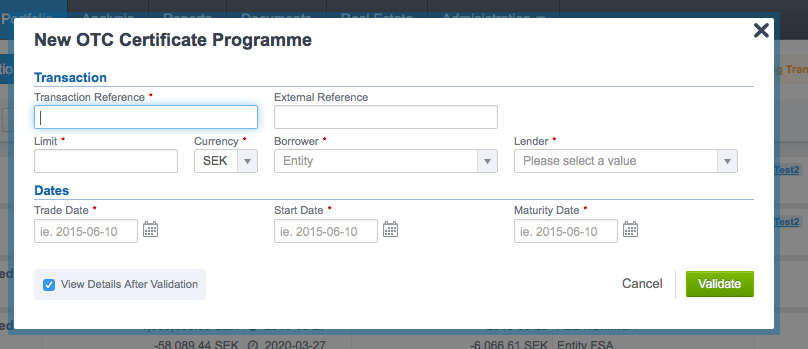 Transaction Management
Advanced Schedule Settings
New features have been added to transaction schedules, which are now provided with more advanced adjustment and calendar options. For example, it is now possible to associate different financial calendars with a single transaction (TARGET, London, etc.) or to customize the payment date adjustment.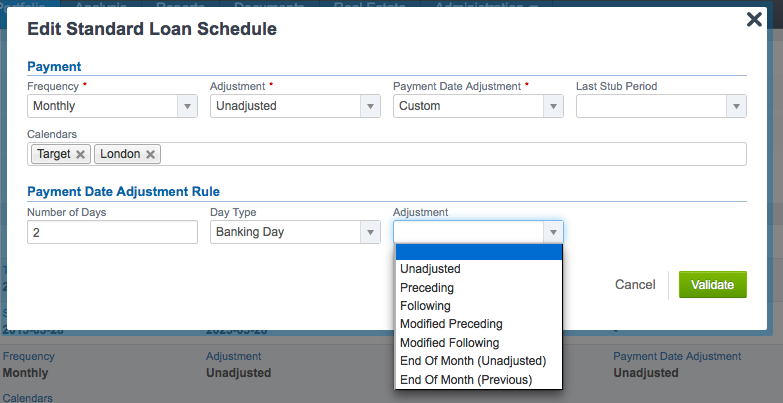 And Much More…
Floating Rates for Issuing Programs
In the analysis and reporting tools, issuing programs can now be taken into account as floating rate instruments.
Coming Soon
Configurable Dashboard
Dashboard is the first thing you see when you log into your Fairways Debt's account and we want you to have the chance to custom it as much as possible. Do you want to learn more about it? Do not miss our fall release!