March 2016 – With winter on its way out, it is time to get ready for spring and for the new version of Fairways Debt! Once again, this release makes room for customization, with a lot of outstanding features that will enable users to further personalize their management solution. The functional and technical sides have not been left behind, since several developments are now available for improved support and performance. So, have a look below and discover how to get the most out of Fairways Debt!
New Features
Custom Pie Chart for Configurable Dashboard
A new entry in the configurable dashboard, the pie chart provides a graphical view of a given indicator according to specific sorting criteria. 
To create your own pie chart, go the "Account Theme" page and then to the "Custom Widgets" section: here, you can add the pie chart by selecting the indicator you wish to display (for example, the outstanding amount) and the way you want it to be displayed (group by transaction type, for example). 
The chart will be then available in your dashboard and will provide the information requested at a glance.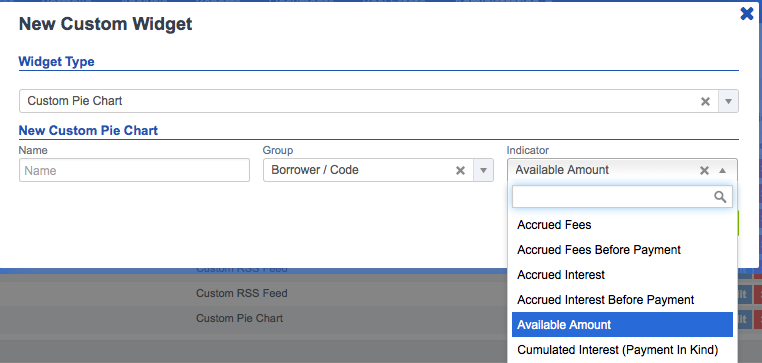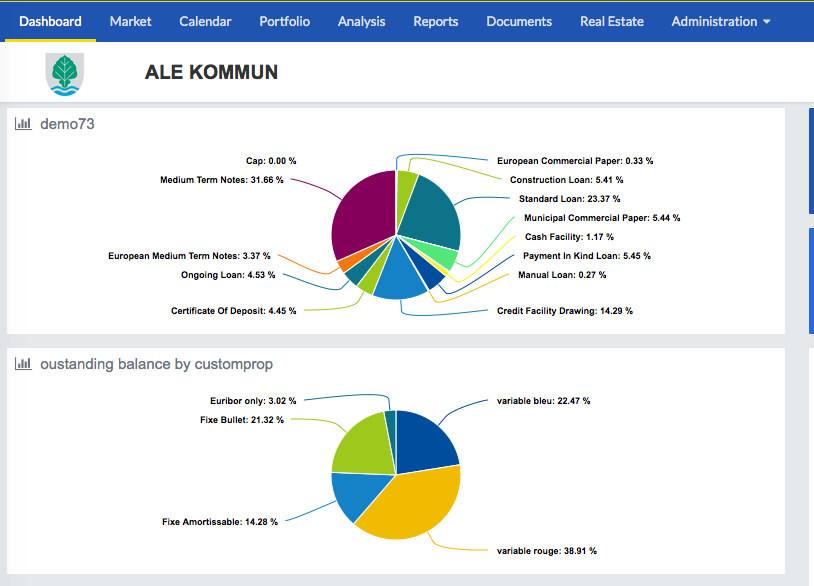 Notification for Uploaded Documents
The custom notification center is yet further enriched for those who use the document module: in fact, users can now receive a notification every time that a specific type of document is uploaded (if no types are selected, notifications are sent for all documents). Just go to the notification center in the user settings page and configure your notifications for uploaded documents: it is as simple as that!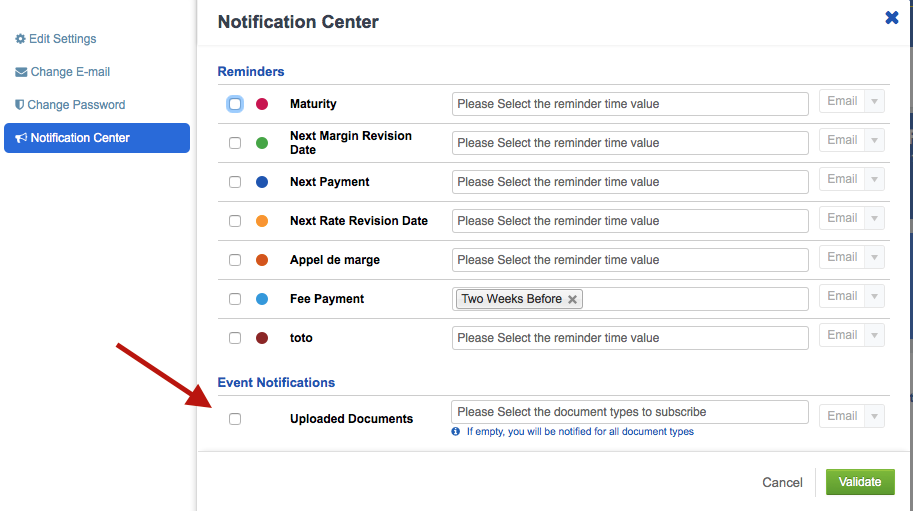 Dynamic Custom Properties
As usual, we strive to develop our customizable features at their full potential; this is why custom properties can now have dynamically calculated values, based on user-defined rules. 
To add a dynamic custom property, go to the "Account Configuration" page and define the possible values in the form. Once the property is created, you can set the rules to dynamically calculate values according the criteria selected for dates, amounts, transactions, etc.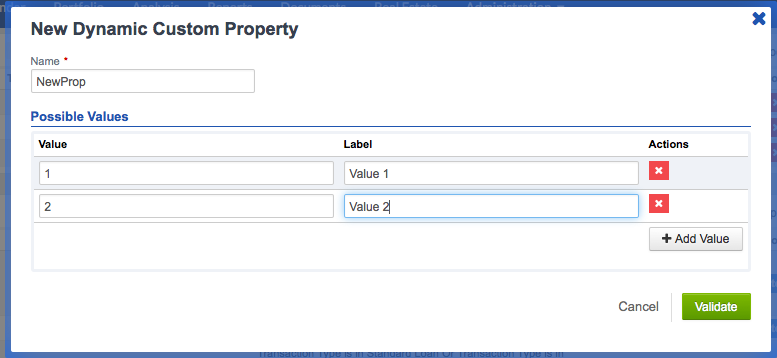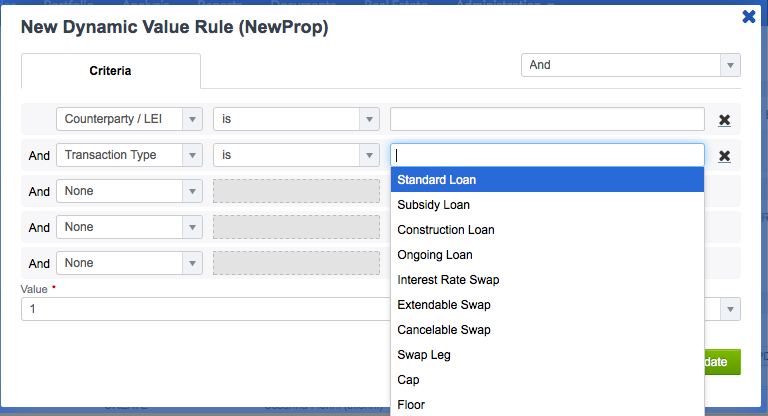 "Aggregate Cash Flows" Option in Cash Flow Reports
A new option is available in cash flow reports, which can now display the aggregate amount of different flows. Netting is possible if the cash flows refer to the same transaction, take place on the same day, in the same currency, and are of the same type (principal, interest, fees, etc.).
Transaction Management
Constant Amount in Periodic Fees
The system now supports periodic fees with a constant amount, which is not index-linked but is manually provided by the user. 
To add a periodic fee with constant amount, all you have to do is to select the relevant option when creating the periodic fee.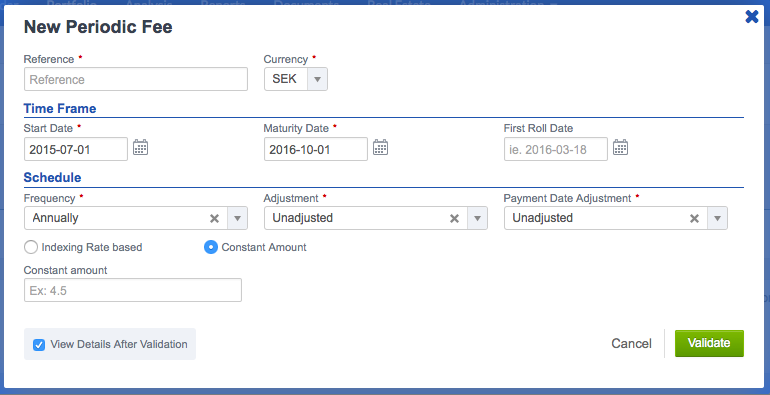 Payment Date of Upfront Fees
Upfront fees can now be paid at any date.
You just have to fill the "Payment Date" field when creating the upfront fee.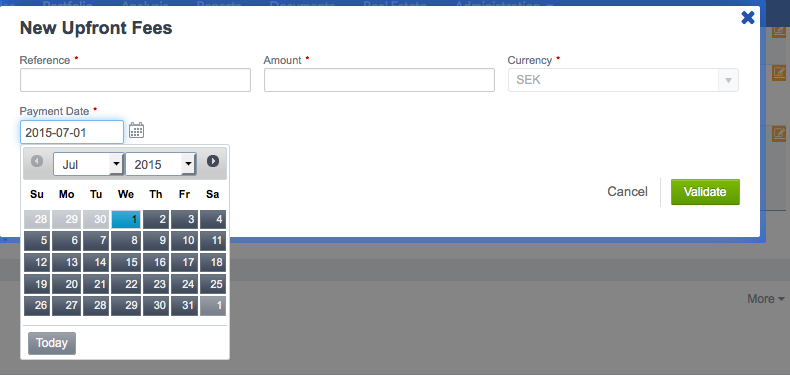 Payment Frequency Greater than Fixing Frequency
As for advanced schedule and indexation options, the payment frequency can now be greater than the fixing frequency: for instance, you can book a loan with annual payments and quarterly fixing frequency.
And Much More…
Custom List of Indicators in Transaction Pages
Always with a focus on personalization, the system enables users to select the indicators they wish to display for each type of transaction in the related detailed sheets. 
You can make your choice from the wide range of indicators available in the "Account Features" page, then the "Available Transaction Types" section.
Update of Custom Property Values
For a smoother user experience, custom property values can now be updated in an easier way through the dedicated section in transaction detailed pages.
Custom Events in Calendar
Custom events are now displayed in the Calendar page.
XML

 Integration Error Report

In order to automatize the integration process, the XML integration error report can now be accessed through an API.
Forward Swap Curve in Market Data
A chart displaying the forward curve completes the "Swap Rate Curve" section of the Market page. The chart provides information for swaps with up to 25-year maturity.
Coming Soon
New version in progress for compliance policies, which will support analysis on future dates, with filters, refinanced and simulated transactions.
Another new entry under development is the feature of "Configurable Indicators", which will allow advanced users to create their own indicators (for example, "Aggregate Interest Paid in 2015", "Outstanding Balance at the End of the Year", etc.).
Do you want to learn more about it? Do not miss our summer release note!