June has come and we are glad to let summer begin with the new Fairways Debt's release! New features, advanced improvements, recently-added and updated tools… Discover how to get the most out of our debt management solution!
New Features
Configurable Indicators
This version introduces the possibility for account administrators to configure some of the periodic indicators provided by the platform. In particular, it will be possible to set for the indicators a reference period, which can be in years, months or days.
Configurable indicators cover payment amounts, interest and principal payments, fees and outstanding balance. Once the indicator settings are defined, you can test it and save it for later use in spot reports ("Column" field). 
Another step forward for custom configuration!
New Compliance Policies
This release makes available an advanced version of compliance policies, the feature that allows monitoring your portfolio in relation to predefined thresholds and limits. 
The tool, which can be accessed from the "Analysis" page, has now adopted the same workflow and layout as the reporting feature.

You can create a new compliance policy directly from the dedicated section of the analysis page and you can define whether to keep it private (default status) or to publish it at a global or organization level. Please note that once you switch the status from "Private" to "Global" or "Organization" you will no longer able to edit the policy.
New to this version is also the "Analysis mode" feature, that allows to run not only a backward but also a forward portfolio analysis (i.e. on future dates). Moreover, you can now apply filters to include simulated as well as refinanced transactions, and you are provided with a number of new indicators: fixed rate share, term to maturity (derivatives only), etc.

Custom Market Data Widget for Dashboard
The configurable dashboard has a new entry too: a custom widget is now available to display a selection of market data on a graph. To create your own widget, just select the indexes and the analysis period you wish to consider. Once configured, the graph will be directly displayed in your (more and more!) configurable dashboard according to layout settings.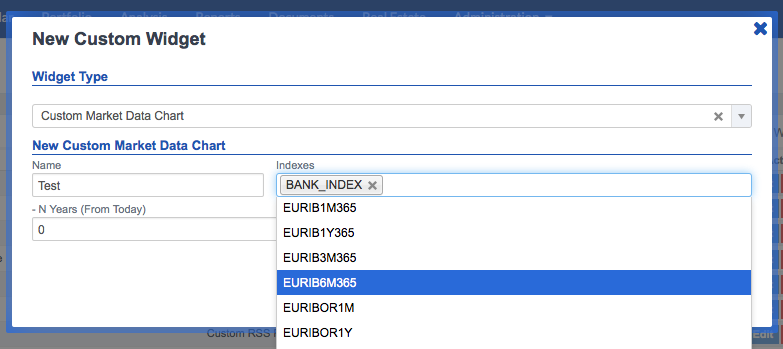 Transaction Management
Shared Custom Index
Do you need indexes other than the official ones? The shared custom index is an internal, unofficial index whose value is given by the fixings provided by the admin (they can be imported through an Excel file). 
You can create a shared custom index for your account or organization from the account configuration page. Here you can set the fixing frequency and the forward mode, which allows to determine how to calculate forward estimates (you can choose either to take into account the last known value or to consider the value of an official index plus a custom spread). Once the index is enabled, you can add as many fixings as needed and use it in the transactions of your portfolio.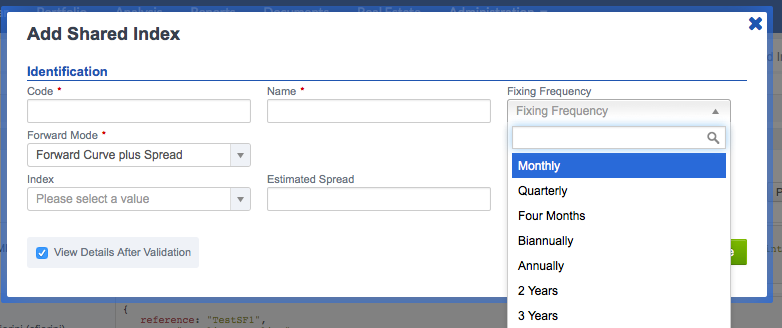 Partial Termination
Fairways Debt now allows to partially terminate interest rate and cross currency swaps. You can do it from the early termination form, where you can select the "Partial" option and define the decrease in the notional amount.

Subsidy Loans
Fairways Debt is now able to fully support subsidy loans. This kind of transaction provides that the Finnish government subsidizes part of floating-rate loans if the rate exceeds a given threshold. 
To manage subsidy loans with Fairways Debt, first ask your admin to configure a subsidy table: for every year, the subsidy percentage and the interest cap must be filled in. At least one subsidy table must be created to let users add new subsidy loans to their portfolio.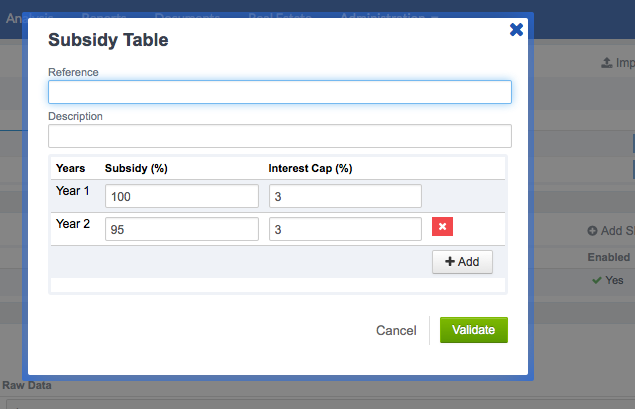 The information displayed for subsidy loans has a double perspective: if the table view displays the figures relating to the borrower's situation (interest payment amounts are decreased by the subsidized part), the "Third Party Payments" section shows the amounts that are actually received by the lender (aggregate amount of the parts paid by the borrower and the government).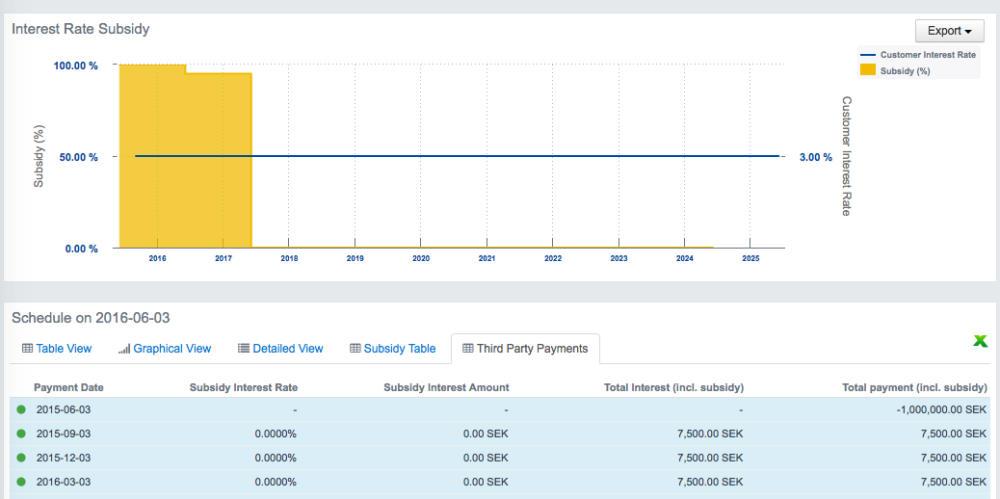 Limit Change in Credit Facilities
For more flexibility, Fairways Debt now allows to introduce limit changes in credit facilities. You can monitor all changes visually thanks to the graphical view.


And Much More!
Onshore Currencies
Fairways Debt now supports for some currencies both offshore and onshore quotes.
Third Parties
To enhance the creation process and provide administrators with greater clarity, the management of third parties has been improved. From the "Third Parties" page you can now access the whole list of all external third parties, create them and select their role (party or counterparty).
Coming Soon…
Holidays are coming, but we never rest! Works are in progress to make FX swap transactions available in Fairways Debt and we have also started to develop a guarantee management module.
Don't miss the fall release to learn more about it!