Here we are, ready to start the New Year with a brand new version of Fairways Debt. Would you like to get a foretaste of the latest outstanding features and recent developments? Have a look below, discover what's new and get the most out of your debt management solution!
New Modules
Financial Asset Management
Quite a revolution in Fairways Debt, the Financial Asset Management Module (FAMM) will allow our clients to manage and analyze their asset portfolios in a single, unified tool. This module was jointly developed with our partner FA Solutions, a specialized software editor with asset management expertise. Three sections are made available to users to perform management, analysis and reporting tasks: all positions, transactions, securities and the whole bookkeeping process can now be managed and analyzed in Fairways Debt. Please note that this module can be activated upon request only if specific back-office requirements are met.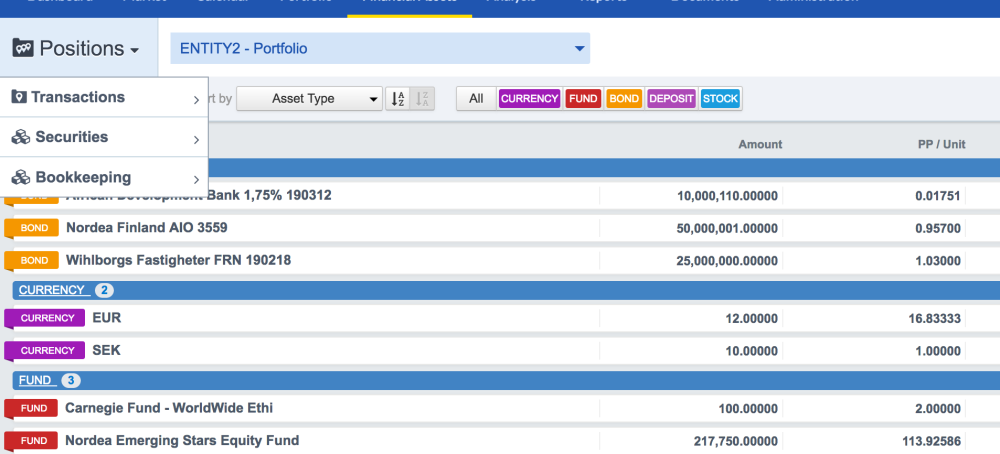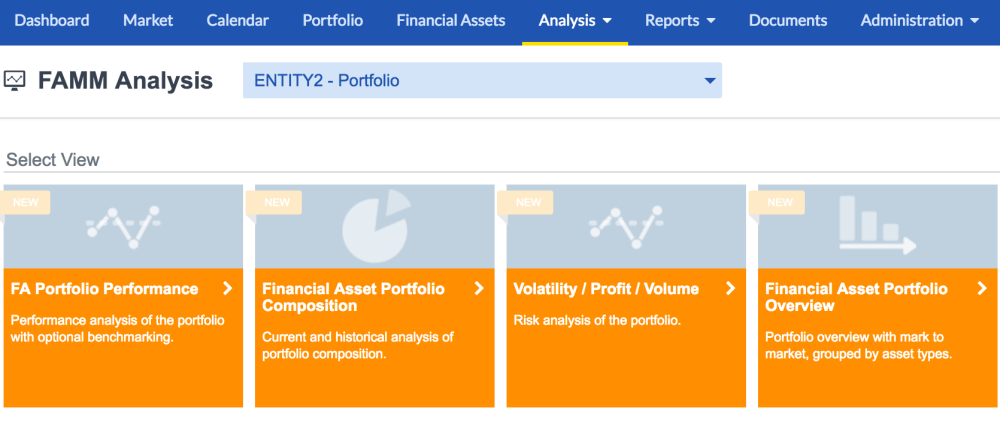 New Transactions
Facility Agreements
Fairways Debt can now support facility agreements, a type of financing transaction that is widely used in the real estate sector. Involving pools of different lenders and borrowers, this transaction consists of several financing tranches subject to specific legal conditions. Fairways Debt allows you to manage all these complex aspects through an advanced workflow.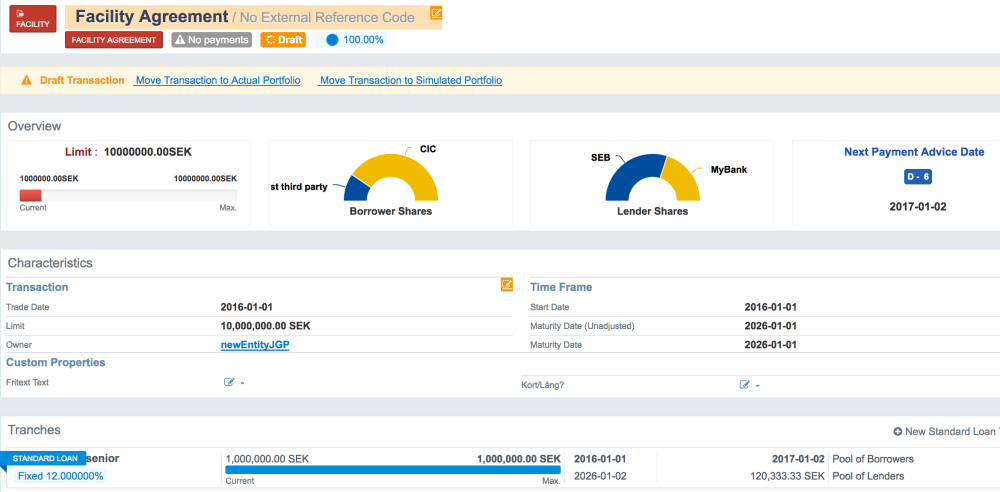 For every facility agreement, you get a comprehensive view of all the agreed transaction details: trade date, start date and maturity date, limit, tranches, borrowers and lenders. All management tasks can be easily performed through the Actions menu: for example, to set a repayment, all you have to do is to enter a repayment amount and the system will dispatch it to all the lenders and borrowers involved.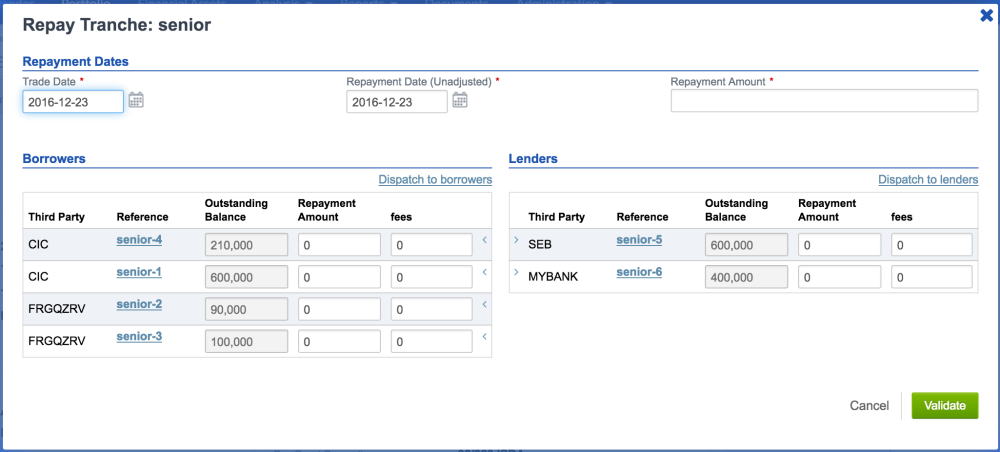 Transaction Management
Financial Calendars
In order to meet the widest variety of needs, Fairways Debt becomes more and more flexible when it comes to financial calendars. Starting from this release, you will be able to set the following calendars for your transactions: Milan, Frankfurt, Brussels, Madrid, Guernsey, The British Virgin Islands, Isle of Man, Bermuda, Wien, Lisbon, Edinburgh and Budapest.
Indicators
This release introduces a number of new indicators, which will further enhance Fairways Debt's transaction management and analysis features.
Concerning spot indicators, five new indicators are now available for your reports:
Hedging Notional Amount: Notional amount of the derivative instruments that are part of the hedging relationship.
Hedge Ratio: Hedging notional amount divided by the outstanding balance of an instrument.
Time to Margin Revision: Number of calendar days between the analysis date and the spread revision date.
Time to Rate Revision: Number of calendar days between the analysis date and the latest date for which the known interest rate is applicable.
Time to Capital Revision: Number of calendar days between the analysis date and the earliest date on which the lender can call in the loan (repayment request).
As for configurable indicators, these are the new entries: principal amortized, principal drawn and interest expense between a date X and a date Y, accrued interest on date X.
Finally, when it comes to compliance policies, these are the indicators introduced with this release:
Number of single transactions exceeding a given percentage of the total outstanding balance.
Share of outstanding balance for a specific transaction type.
…and Much More!
Improved Notification Settings
Notifications can now be managed in a more comprehensive and clear view. 
First of all, the page displays a row for each notification set, which improves information readability and tracking.
The system also provides filters to get notifications only according to specific criteria: borrowers, lenders, counterparties, indexations, transaction details, etc. This also applies to document notifications which, being now far more flexible, can be set only for a given document type associated with specific transactions. For example, you can filter all invoices relating to transactions that involve a given counterparty.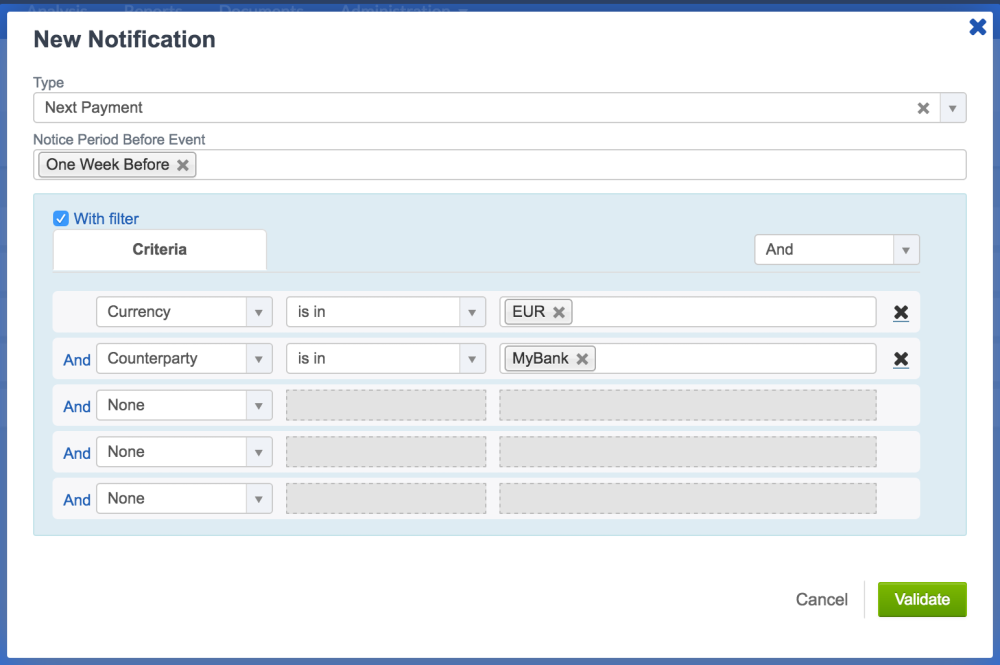 Account Audit Log
Administrators can now benefit from an additional monitoring tool, which allows them to track all the activities carried out by account users with the possibility to sort and filter information according to specific criteria.
Third-Party Groups
Fairways Debt now allows you to group third parties to reflect their actual organization. All third parties can thus be associated to a given group, which has to be previously defined at the administration level.
Coming Soon…
Cannot wait a few months to discover Fairways Debt's upcoming developments? Here's a foretaste for the most curious ones! 
Works on the much-awaited guaranteed loans are underway, and collateral management is now fully developed. 
A new transaction type is expected to be available soon: FX swaps will come to complete the wide range of instruments supported by Fairways Debt. 
Covenants will be soon released in an outstanding enhanced version, which will provide improved features to meet all specific needs.
Finally, transaction pages are being redesigned in order to provide the most effective user experience.