Winter is here and so is our Winter 2018 Release!
Here you will find information about our great new features and enhancements intended to improve your experience with our services.
'Tis the season to be jolly, so Enjoy!
New Feature
FX Rates
A new tab, called FX Rates has been added to the Market page. In this tab, you can now view the exchange rates for all the currencies available on the platform, over a one year period. This information is provided in a table. You can select a currency and then view its exchange rate in all the other currencies.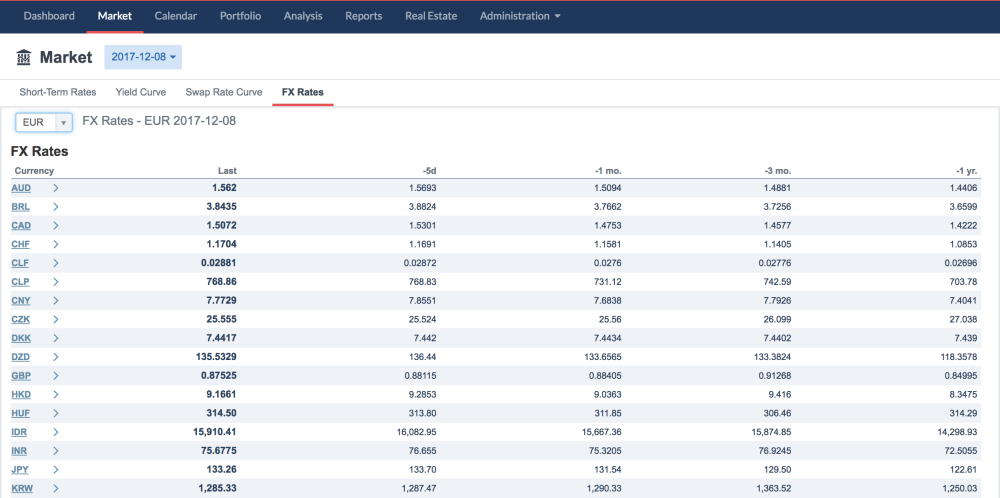 You can also view the exchange rate history of individual currencies.
Transaction Management
Loan with Embedded Cap/Floor
A new option is available for managing floating interest rates on standard loans. 
When filling in the Cap/Floor Rate option you can now enter the minimum and maximum interest rates with the Min/Max rate option. 
When these rates are provided, they are applied to the transaction's index and margins. For example, for a loan with a fixed interest rate based on the EURIBOR3M index at 2% and a 0.5 % margin rate, the min/max rates will be applied to the 2.5% interest rate. It is in fact the index + the margin that are capped or floored.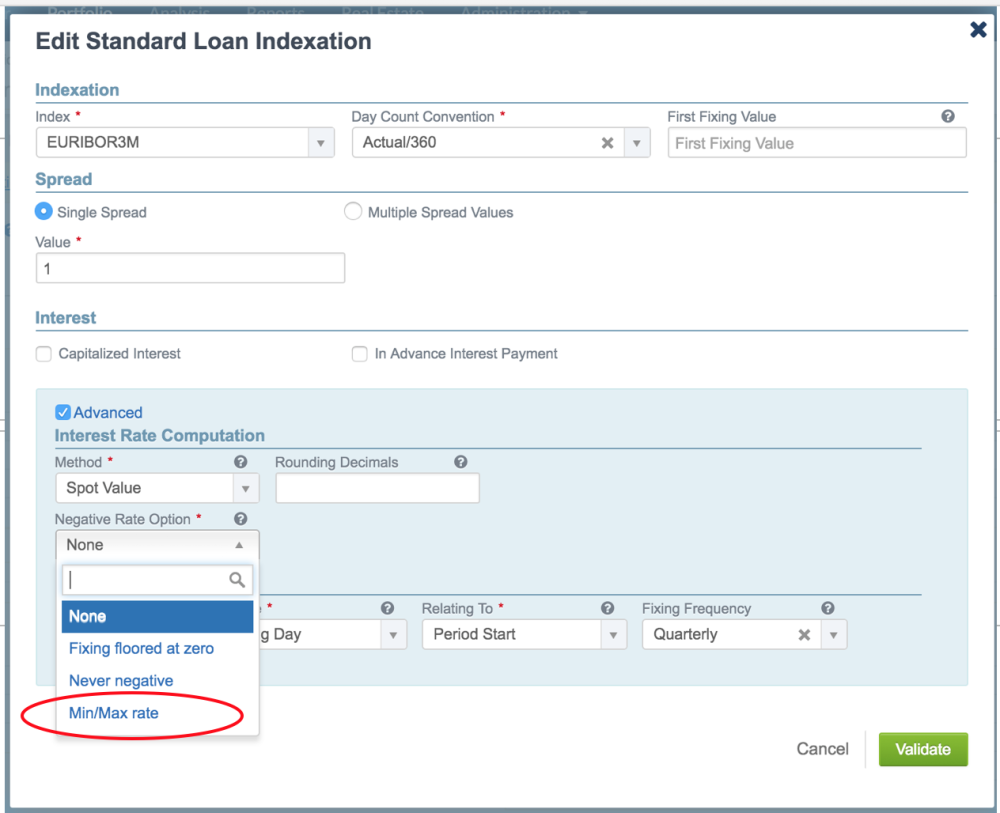 Note: The Mark-to-Market (MTM) valuation method takes the implicit cap/floor rates into account when the Min/Max rate option is used.
New Security Bonds
The Sterling Bond and the EU Private Placement bond have been added to the list of bonds available for investment management in Fairways Debt. 
You can find these options in the New Bond form available from the Add Transaction menu > Security > Bond.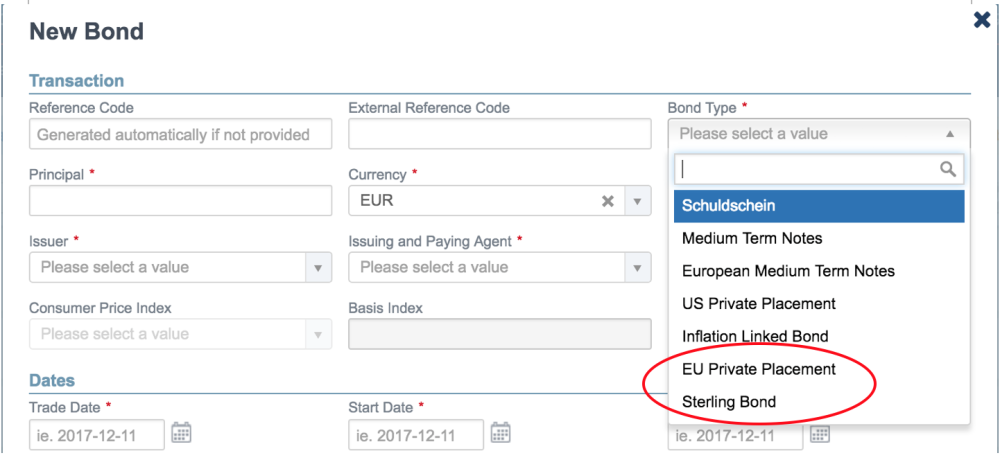 Indicators
Mark-to-Market (
MTM

) Valuation Enhancement

The MTM indicator now takes the implicit cap/floor rates option of floating interest rates into account for valuation calculations.
MTM

 of Embedded Derivatives

A new indicator, the MTM of Embedded Derivatives indicator, has been introduced to help manage loan derivatives. It is used in reports to simulate the break costs of fixed interest rate loans. The value it returns is that of all the derivatives, including the embedded derivatives, of the loan.

This indicator returns values for standard loans with fixed interest rates and standard loans with variable rates and embedded cap/floor (see Loan with embedded cap/floor above). It returns an N/A value for all other types of transactions.

The variant of this indicator, the Clean MTM of embedded derivatives returns a value that includes the market value of all the derivatives minus their accrued interest rates.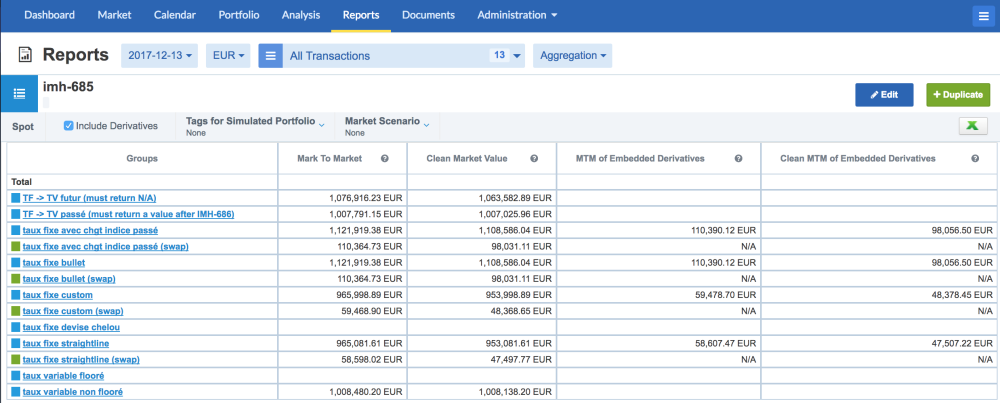 Cross Currency Swap
Fairways Debt now supports cross currency swap MTM valuation with the following currency pairs:
SEK/CHF, SEK/NOK, SEK/USD, NOK/USD, GBP/USD, CHF/USD and SEK/GBP
New Transaction
Lease
The Lease module which was released as a beta feature in the Fall 2017 release, is now fully available in Fairways Debt for all customers. It is intended to help customers obtain a more complete vision of their overall debt situation.
This module can be used to create lease-type transactions at fixed or variable interest rates and integrate them into a portfolio. The transactions will be visible in Fairways Debt and therefore available in your analyses and reports. 
New features have also been added to the module, such as the creation of the consolidated schedule for lease down payments and a new Interest calculation method.
A financial institution rents assets to companies for a set period of time. At the end of the contract, the renter can exercise his option to purchase the asset for a negotiated sum. 
As a result of this type of financing, "renter companies" must mention their leased operations in the annex of their balance sheets and in their list of financial commitments.
Two types of leases can be entered in the Lease module:
Financial Lease: the renter has the option to purchase the asset at the end of the contract
Simple Lease: the three stakeholders are simply linked by a lease agreement without the option to purchase for the renter
Leases are created from the Add Transaction menu.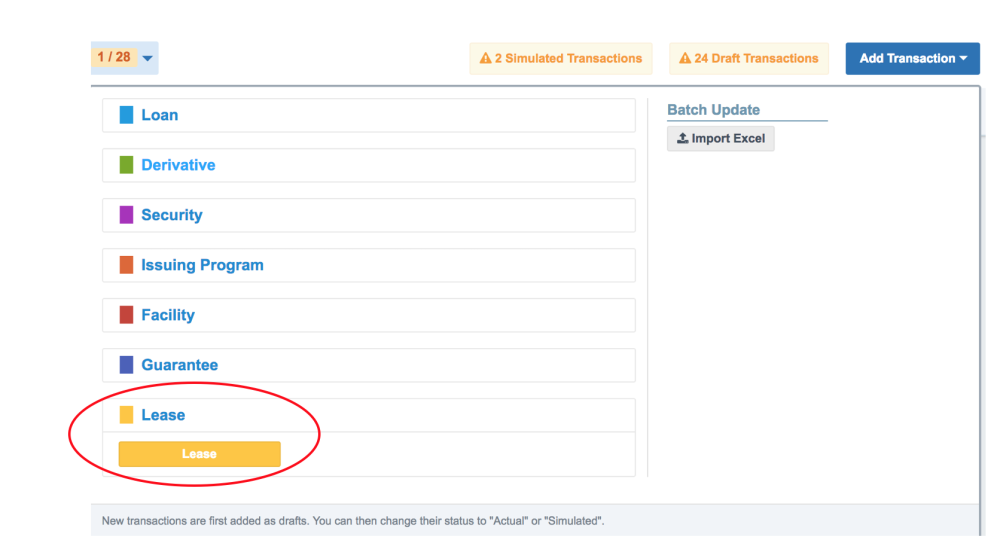 In the New Lease creation dialogue box, enter all the information required to create the lease then validate them.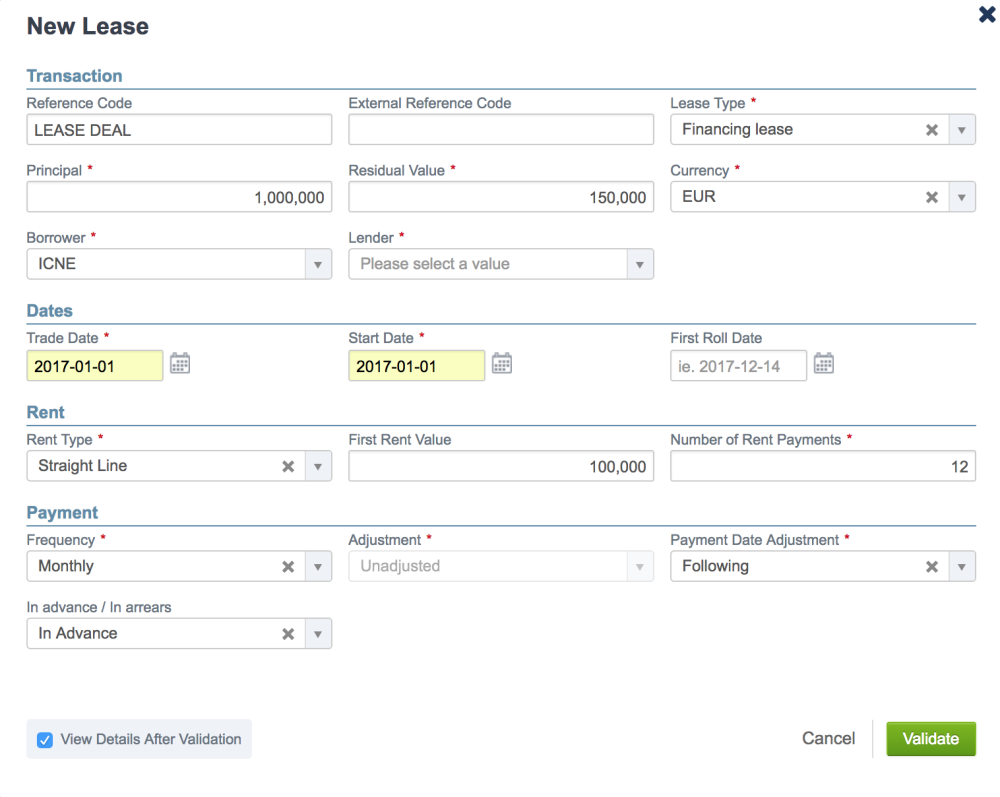 For more information about the Lease module or how to activate it on your account, see your Finance Active consultant.
…and Much More!
Add Transaction
The new and improved Add Transaction feature is now available. This feature has been revamped to offer a more user-friendly and pleasant layout. Items are now organised in colour-themed submenus making them easier to find and thus simplifying user experience.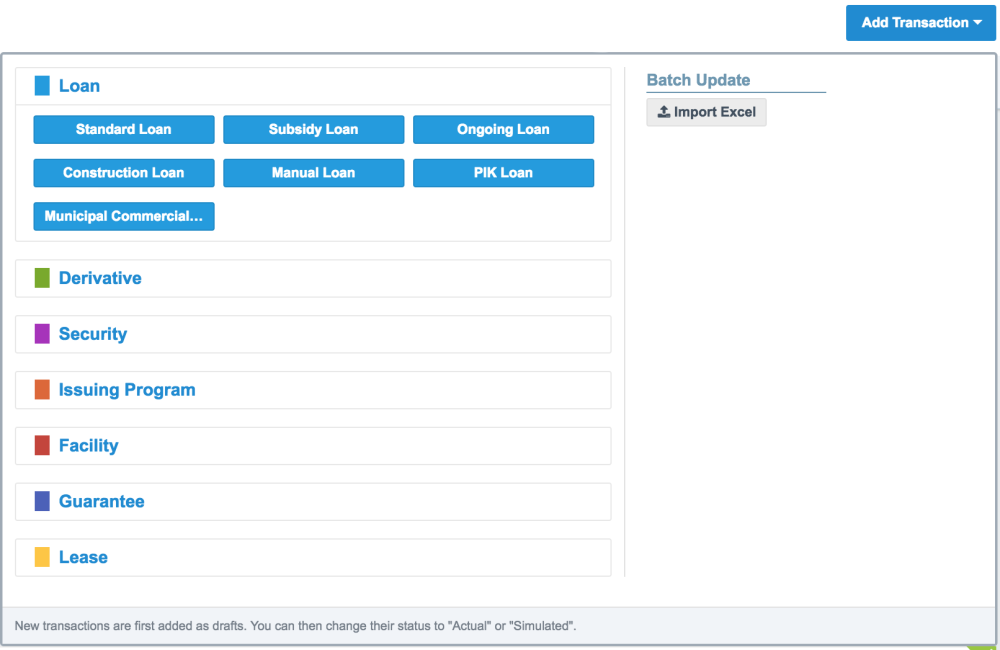 Mass Integration (File Upload)
In Fairways Debt, transactions can be entered in any of the following 3 ways:
Manually (end user)
Mass integration in Excel format (end user)
Mass integration in 

XML

 format (machine to machine communication)
The scope for mass integration has been broadened to help simplify platform management.
Interest Rate Swap agreements can now be uploaded in Excel format (already supported in 

XML

).
Cancellable Swaps and Extendable Swaps can now be uploaded in 

XML

 and Excelformat.
Interest Rate Caps, Floors and Collars can also be imported in 

XML

 (already supported in Excel).
You can import mass data in Excel format from the Import Excel dialogue box available from the Add Transaction button.

You can also download the Excel template from this dialogue box to prepare your data before uploading it to the platform.
Coming Soon…
We are currently working on new outstanding features, such as:
New layout for Fairways Debt modules (navigation): Modules have been reorganised to offer a Metro-style navigation. An announcement will be made to communicate the official release date of this feature.
The first draft of the new 'Emprunt CdC' (French social housing sector) transaction is being developed and a beta version will be available in the Spring 2018 release.
Liquidity Investment Module (

LIM

): This is a new Finance Active offering, that can be used to manage forecast cash flows. It can also automatically retrieve account balances so that customers can centralise and make the most effective use of their cash position worksheets. The first version of 

LIM

 will be available to the public in the Spring 2018 release. Be on the lookout for more exciting information about this new module.