The new Summer Release is live for Fairways Debt. Have a look below and discover our new features and developments.
New Transactions
CDC

 Loan

French Social Housing sector uses "Caisse des Dépôts" as the main lender. These loans have very specific calculation algorithms in order to protect the tenants from the rate volatility, keeping the rent stable through a floating maturity or interest capitalization.
Transaction Management
Advanced Feature for Capitalized Interest, Support for Payment If You Can (
PIYC

) Loans

A new life cycle Action 'Pay Interest' is now available for the capitalized interest loans.
This action is also available in the Facility Agreement.
Navigate to a tranche level.
Click Capitalized Interest Payment.
Select a payment date. The quick filter shows relevant contractual payment dates.
Enter the total interest amount as the paid interest.

The "Capitalized Interests" column displays the total payable interests at the selected payment date.
Click Apply to duplicate the action on all participations (just like every action at tranche level).
Payment Date Rules for Swaps
Fairways Debt do manage Interest Rate Swaps and Cross Currency Swaps with non standard payment date rules.
For example, you can book a swap with a payment date that occurs two banking days before the end date of the interest period.

New Bond Types
Support for French Government Bonds "Obligation assimilable du Trésor" and "Bon assimilable du Trésor" is now available in Fairways Debt.
More Market Data and Indexes
2 new currencies:
HKR

 – Croatian kuna

TND

 – Tunisian dinar
New indexes or maturities:
Analysis and Reporting
Improvement for Schedule Report Feature
The Schedule Report feature enables you to generate a report with consolidated data from the schedule of deals in your portfolio.
Reports are now more flexible: select the relevant criteria to only display relevant schedule rows.
| Criteria | Display Schedule Rows with |
| --- | --- |
| Period Start Date | Start date matching analysis period |
| Period End Date | End date matching analysis period |
| Payment Date | Payment date matching analysis period |
| Fixing Date | Fixing date matching the analysis period |
Example
You want to generate a report that only shows schedule rows with a fixing date within the current month.
1. Select Fixing Date as the indicator.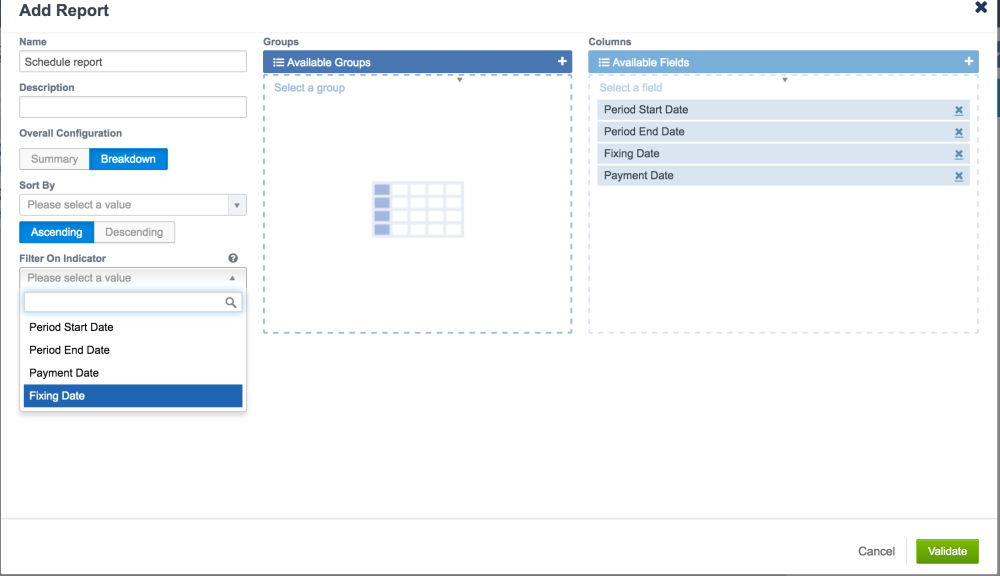 2. Select the relevant analysis period.

New "Detailed Debt Maturity Profile" Analysis Screen
The new Detailed Debt Maturity Profile analysis screen displays your debt maturity profile with more details.
This analysis screen enables you to either:
Analyze the debt profile by: 'Party,' 'Counterparty' or any other available custom property
Select the indicator to monitor: 'Outstanding Balance,' 'Available Amount' or 'Committed Amount'
Compare your debt profile with your forecast budget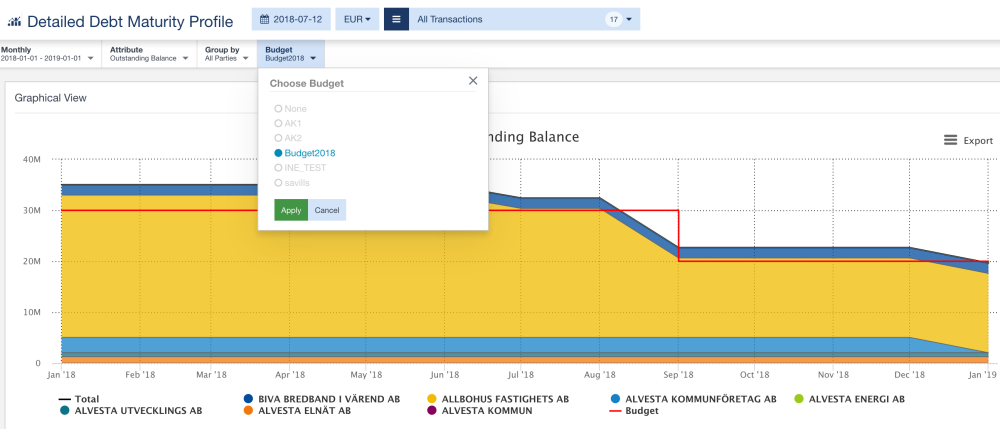 New Indicators
Fees Amount in Schedule Report
Average Spread computation in Spot Reports
…and Much More!
The scope for mass integration has been broadened to simplify the platform management.
Short Term Bonds, such as Certificate of Deposit or European Commercial Paper, can now be uploaded in Excel format
Balance amount for Cash Facility (Balance Mode) can now be updated in 'Excel' format
Cash Flows for Cash Facility (Cash Flow Mode) can now be updated in 'Excel' format
You can import data in batch in Excel format from the Import Excel dialogue box available from the Add Transaction button.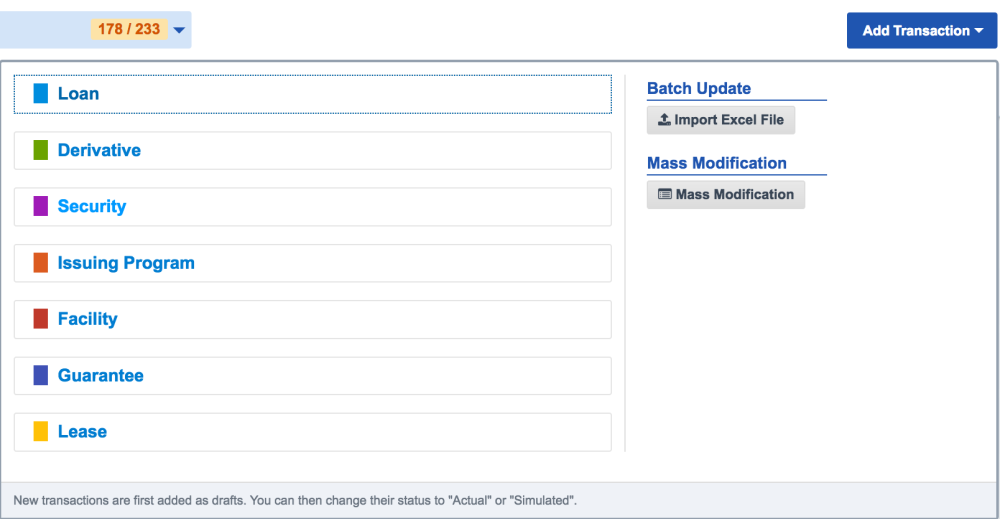 Coming Soon…
We are currently working on new outstanding features, such as:
Advanced report configuration
Group Fx Rate: use custom Fx Rate for analysis and reporting
Capitalized Fees in Facility Agreement