The winter 2015 release is now available.
Product coverage perimeter is enhanced. You will also find new great features, which will improve your experience with our services.
Please take a look on the main new features listed below.
New Feature
Compliance Policy
You use Fairways Debt to gain an overview of their debt portfolio, carry out analyses, simulations and projections and generate reports on their portfolio. 
The purpose of the Compliance Policy feature is to monitor the keys figures of your portfolio in relationship to your compliance policy limits.
As an example, you can define a rule such as 'The share of my debt in a foreign currency should not exceed 30%', and the system warn you if you breach this limit.
So, you can define a set of rules, with associated 'warning' and 'limit' level

Then you can run the Compliance policy analysis (In the 'Analysis' menu. The system highlight your breaches, if any.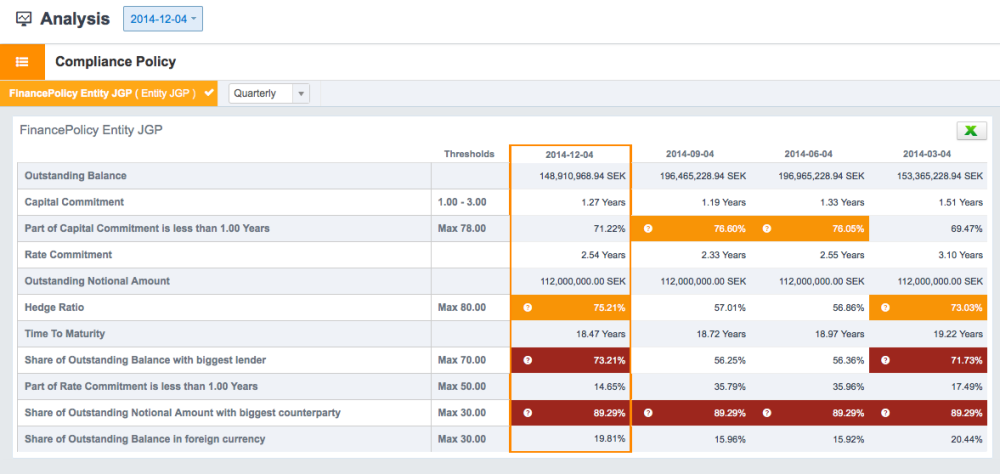 New Deals
Credit Facilities
Credit Facilities are now supported. This agreement allows the borrower to draw down funds according to their own needs, up to the agreed amount and during a specific term. In credit facilities, each drawing constitutes a standard loan with its own characteristics (start and maturity dates, payment frequency, interest rate, etc.) and workflow (for example, a drawing can be early repaid).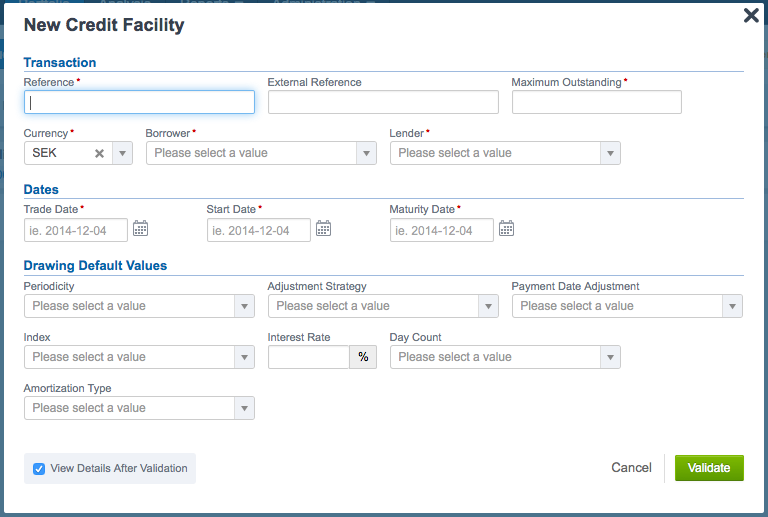 The associated fees (usage and non-usage fees) are supported as well.

Cross Currency Swaps
Cross Currency swaps are supported as well. A Cross Currency Swap is an agreement between two parties to exchange interest payments and principal on loans denominated in two different currencies. In a cross currency swap, a loan's interest payments and principal in one currency would be exchanged for an equally valued loan and interest payments in a different currency.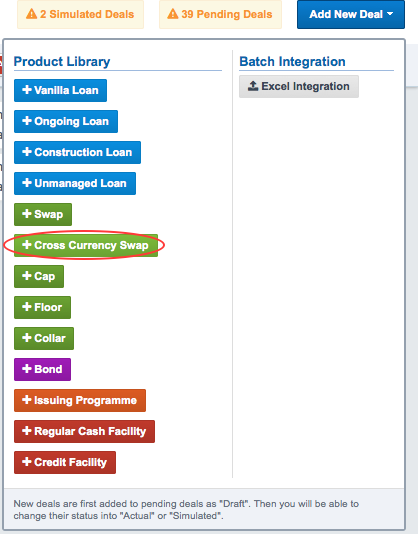 Product Management
Support for Indexing Change on Live Deals
Support for change management on live deals is improved. You are now able to change the Rate or Spread, as well as the underlying index for all deals in your portfolio.
As an example:
You can change margin for a floating rate loan (0.25% during two years, and then 0.3%).
You can switch indexing characteristics, for example you can book a loan which turn from fixed to floating.
 In order to do it, you have to book a Trade Date, a Reference Date and the characteristics of the new indexing.
The schedule of the deal is then recomputed by taken into account the indexing change action.
One important point is that, as everywhere else in Fairways Debt, all analysis and reports are retroactive. 
Which means that, if you run an analysis in the past (regarding the trade date of the indexing change action), the deal appears in the report as it was before you've booked the indexing change action.
Manual Edit of Interest Period Rate
In the schedule of the deals, you are now allowed to manually edit the Interest Rate of each period, as well as the Interest Amount.

And Much More…
Timestamp for 
MTM

 Computation

In product detail page, a timestamp related to the latest market data used for MTM computation is displayed.

As an example, for the SEK currency, the market data are updates four times a day.

Improvement of Custom Attributes
New type of data are available for custom attributes : Text, Date and Numeric

Calendar Page: Excel Export
You can now export to excel what is displayed in the Calendar page.