September 2015 – Summer is over, holidays are gone, it's getting colder… But it's not all bad! A new great Fairways Debt release is coming up to let you enjoy, as usual, the best user experience possible. Have a look below and discover our new outstanding features!
New Features
Configurable Dashboard
The dashboard is the first page you land on after logging into Fairways Debt: it presents an overview of your portfolio as of a given date, while providing information about the market context and the main financial news. What about if you could customize its layout, activate it for all users and decide which data and indicators to display? No, this is not impossible: this is what Fairways Debt allows to do in its latest version.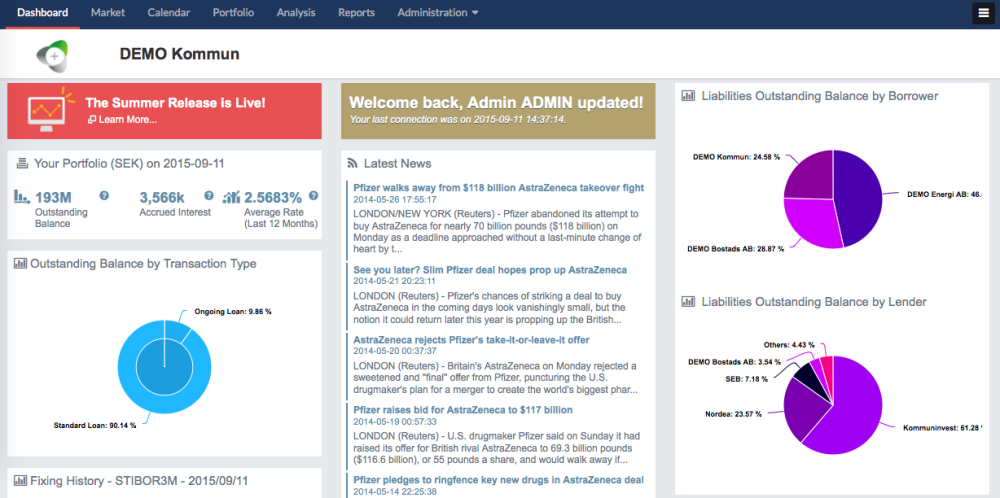 To benefit from this new feature, all you have to do is to click on the "Edit" button on the top right of the screen, to access the settings page and configure your dashboard.

In this page, you can customize the dashboard design, first by using one of the five different layouts available, and then by specifying the widgets you wish to add in order to present the current situation of your portfolio. Once the options are selected, you can preview your dashboard and choose whether to publish it in your account, apply it to all users or restore the default settings. Just a few clicks and your own portfolio overview is ready to highlight all the relevant information from the first glance!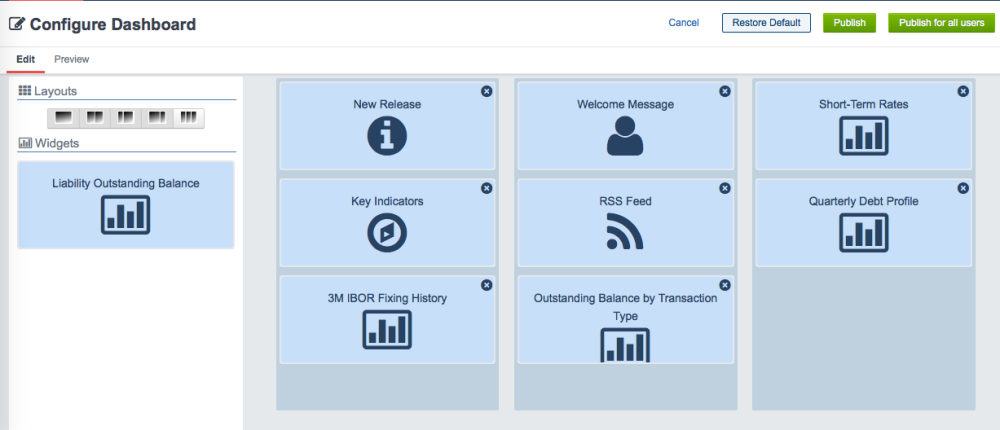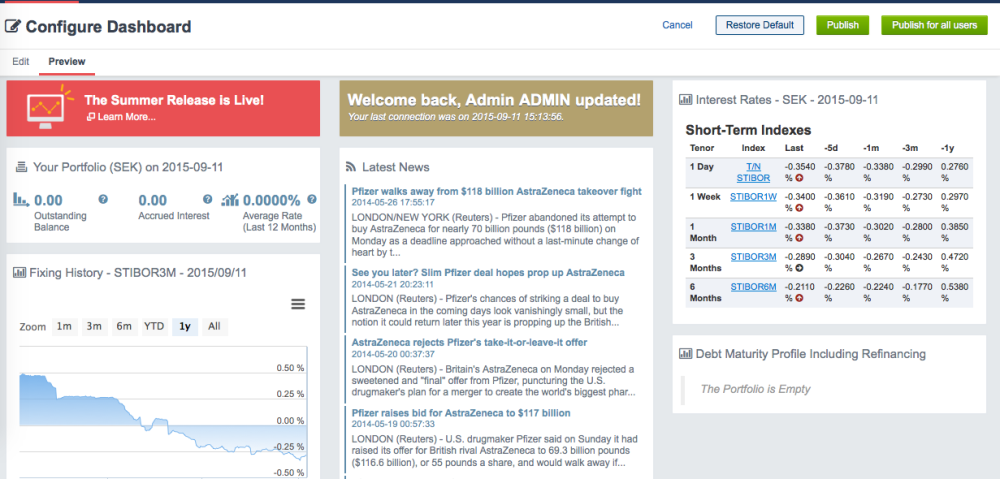 Transaction Management
Periodic fees
Periodic fees are now supported for loans and bonds.

You can add periodic fees when transactions are in draft mode: just click on the desired transaction and the input form will allow you to specify the currency, the main dates, the amount used to calculate the fees (principal or outstanding amount), the payment frequency and the indexation rules.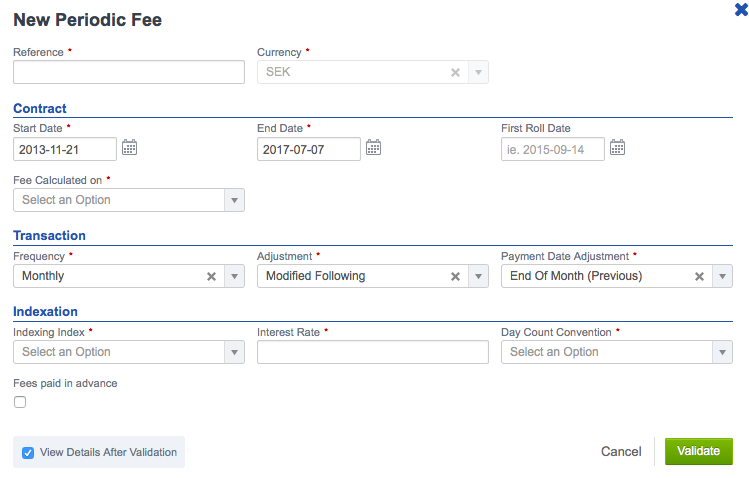 Multi-Phase Transactions
Another significant feature introduced in this release is the support of multi-phase transactions. If loans could previously have only one single interest phase with a fixed or floating rate, from now on Fairways Debt will allow entering transactions with several interest phases.
To create a multi-phase transaction, all you have to do is to book a simple vanilla loan and then, in draft mode, you will be able to add as many phases as needed. 
The fixed and floating rates of each phase can be based on assumptions, which means that they can be revised when the current context becomes known (for example at the start date of the phase).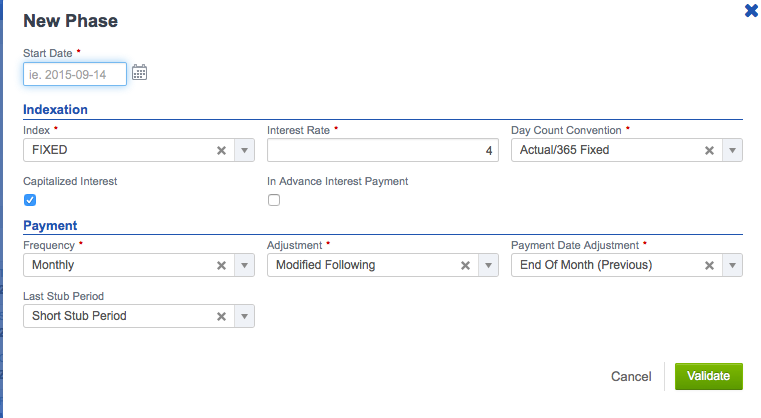 Fee Indexation Change
Fairways Debt allows to revise the indexation used for calculating fees in different types of transactions, such as usage or non-usage fees in credit facilities, fees associated with loans and bonds, etc. To add an indexation change, click on the relevant fee to display its detailed sheet. Afterwards, go to the dedicated section and define the new indexation through the input form: trade and effective dates, index, spread, day count convention, etc.

Improved Indexation Settings
Transaction indexation has been further developed with new advanced options. From now on, Fairways Debt will allow to choose a specific fixing frequency among the following options: monthly, quarterly, four-month, biannually and annually. The fixing frequency can be different from the interest payment frequency. For instance, you can book a EURIBOR1Y loan with semi-annual interest payments and annual fixing frequency.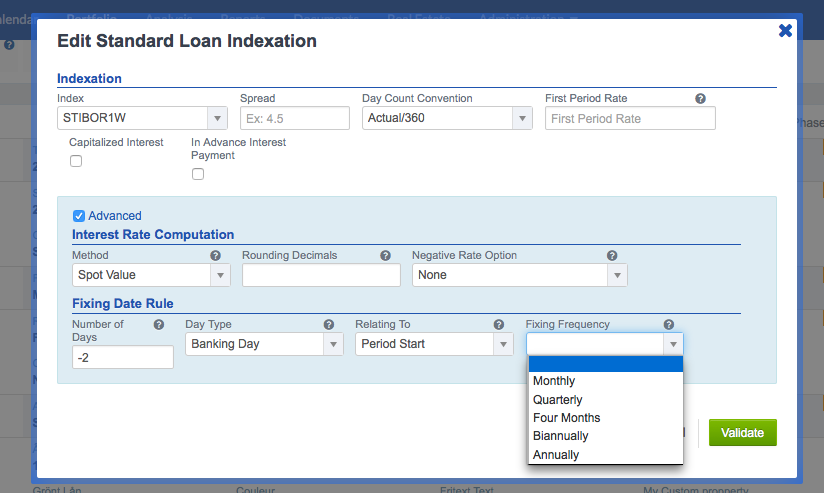 Constant Annuity Amortization Schedule
Fairways Debt is now able to support constant annuities in amortization schedules. In this amortization mode, the part of the debt in each annual payment increases, while the interest part decreases, so that the total payment amount remains the same over the entire term to maturity of the loan.
…And Much More!
Split View Mode Supported for Issuing Programs
Fairways Debt now allows to split issuing programs for a more detailed overview of your portfolio. Thanks to this brand new feature, you will be able to display separately all the bonds and certificates, and to filter them to easily access the required information and better analyze the transactions issued as a part of a program.

Coming Soon…
Standard Reports and Periodic Fees for Derivatives
Do you need to apply periodic fees to transactions other than loans and bonds? Work is in progress to enable periodic fees in derivatives transactions. 
Also, a new feature will be deployed in our reporting tool to make available tailored standard report templates upon request. 
Stay tuned and, in the meanwhile, enjoy the fall release!