Spring is always a good time to innovate and Fairways Debt comes with plenty of new features, options and tools to let users benefit from the best possible experience. Brand new reports, modules, transactions… Discover what's new and learn how to get the most out of our debt management solution!
New Features
Transaction Detailed View
The detailed view of transactions comes with a brand new look, for an improved and more intuitive experience.
Users can now browse through different tabs in order to find the information they're looking for. Overview, schedule, transaction life cycle, fees, hedging, guarantees, renewal, assets, covenants, audit log: every piece of information is in the right place to be easily found when you most need it.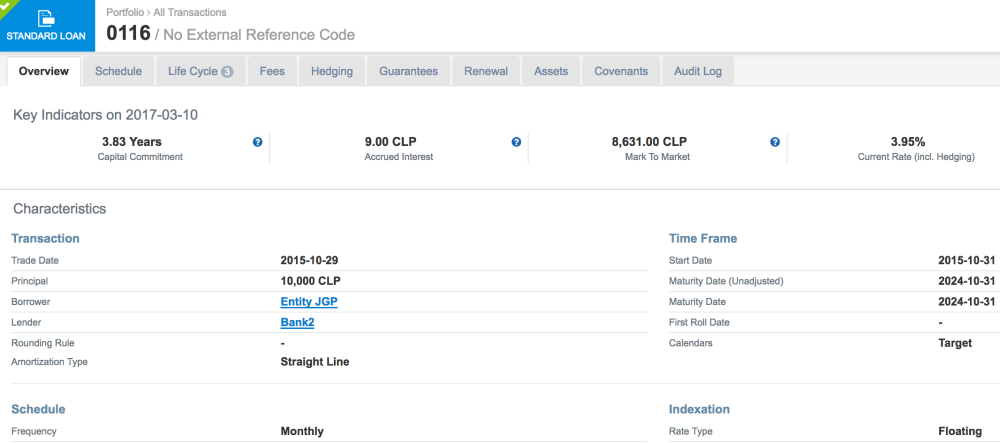 On the right side of the screen, a set of icons allows users to access the main features and actions relating to the displayed transaction. From here you can add comments, documents, tags and custom event notifications or you can perform actions like editing the transaction, creating a new transaction from the current one or generating confirmations. Do everything you need in the same place and in just one click!

This new feature is available for all users. You can already activate it in order to get a first taste: just click on the "Manage Beta Features" option in the left side menu of the account and toggle the "New Transaction Page" option.

Schedule Report
This release introduces the schedule report, a much-awaited new entry in Fairways Debt's reporting tool. Looking to access detailed information about payments in a single view? Just a few clicks to customize your report and you can get at-a-glance information according to your needs. The schedule report returns a row for each payment associated with your portfolio or a filter-based set of transactions, displaying the required information according to user-defined groups. For example, you can edit a report that groups payments by their payment date and add transaction-related information such as currency, maturity date, start date, amortization type, etc.
New Modules
Financial Covenants
Fairways Debt can now support financial covenants. With this release, users will be able to manage contractual borrowing limits, thresholds and obligations for standard loans, credit facilities and facility agreements. This module can be activated upon request and is only available to users who have enabled the new transaction detailed view.

You can add a covenant to a given transaction in the "Covenants" tab of the new detailed view. Once the covenant is created, you can set a threshold, a nominator and a denominator (for example, linked to a spot indicator) and select one or several tranches if the covenant applies to a facility agreement. You can also associate an asset with the covenant after selecting it in the asset page.
Payment Advice for Facility Agreements
Fairways Debt can now automatically generate payment advices for facility agreements. This advanced feature provides users with a much more dynamic and comprehensive tool compared to standard invoices. For example, payment advices can take into account tranches when displaying calculation details, which is not possible with static, standard invoicing templates.
This module is available upon request and requires support from our experts in order to configure the template file for your account.
Transaction Management
Guarantee and Collateral Management
With this release, Fairways Debt introduces a much-awaited innovation: guarantee and collateral management. Very often, debt obligations are necessarily associated with guarantees; with our solution you can now handle all the related aspects in a single, unified tool.
You can add a guarantee from the "Add Transaction" drop-down menu and then associate it with a standard loan, a subsidy loan, a manual loan or a construction loan. Fairways Debt supports different types of guarantee-related fee: upfront fees, periodic fees, constant periodic fees and non-usage fees.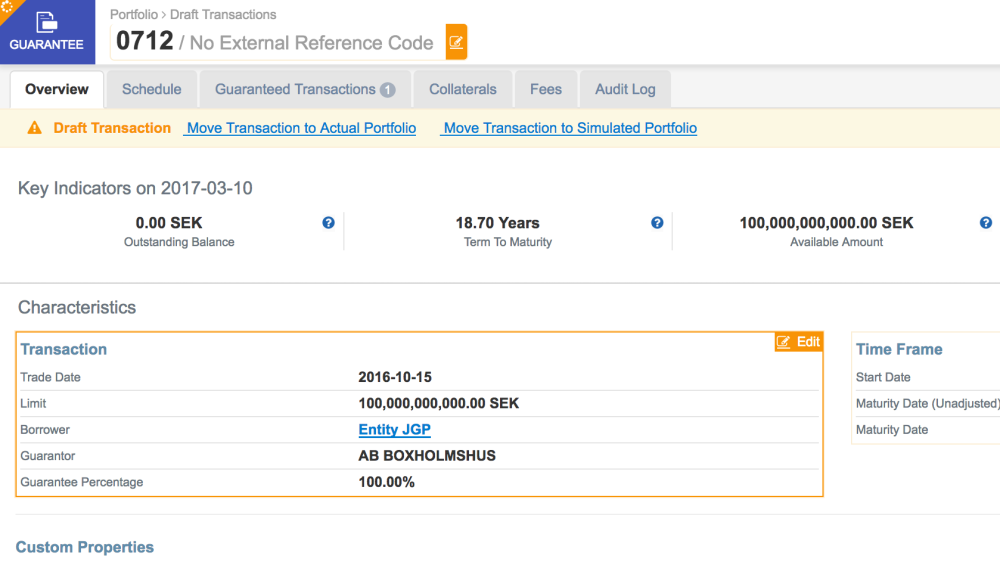 Fairways Debt also allows you to manage collaterals associated with guarantees. For each collateral, you can define specific settings: collateral type, nominal value, market value, currency and revision options.

FX Swaps
To conclude on transaction management, Fairways Debt now also supports foreign exchange swaps.
And Much More!
New Transaction Notifications
Notification emails come in a new version including additional data as well as a direct link to the relevant transaction. The information you need is just one click away!
Coming Soon…
New outstanding features and improvements are yet to come, so stay tuned if you want to learn more about the upcoming developments on Fairways Debt!
We are redesigning document research to offer enhanced ergonomics and simplified search tools. The platform will also be supporting another transaction: inflation-linked bonds are expected for release soon.
Can't wait to learn more? Don't miss the summer release note!