The new Spring Release is live for Fairways Debt. Have a look below and discover our new features and developments.
New Features
Mass Modification of Custom Property Values
If you need to massively update values of custom properties on Deals, you can now do it through an Excel import rather than doing it deal by deal.
You can find the 'Mass Modification' feature in the 'Add Transaction' button on the Portfolio page.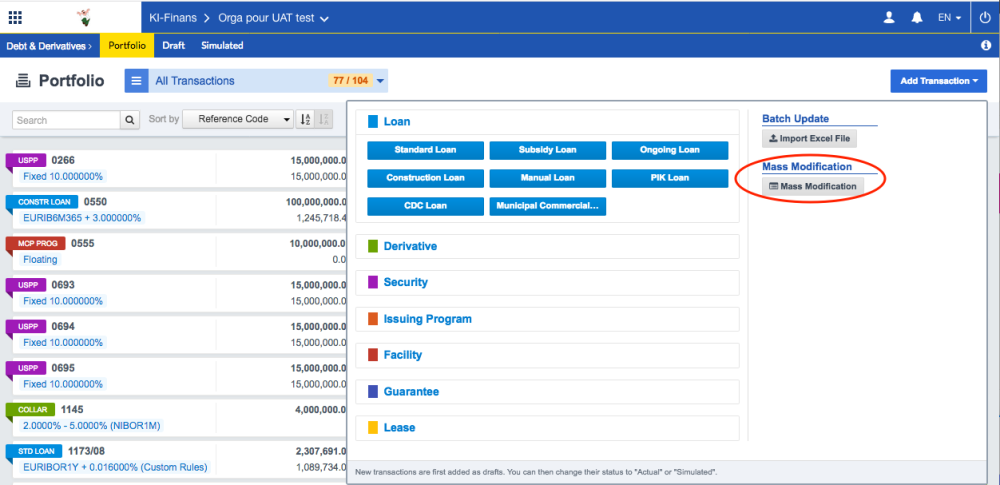 'Sort by' in Report Settings
While creating a report, you can now choose to sort the results based on any relevant criteria, e.g. sort report results by Maturity Date.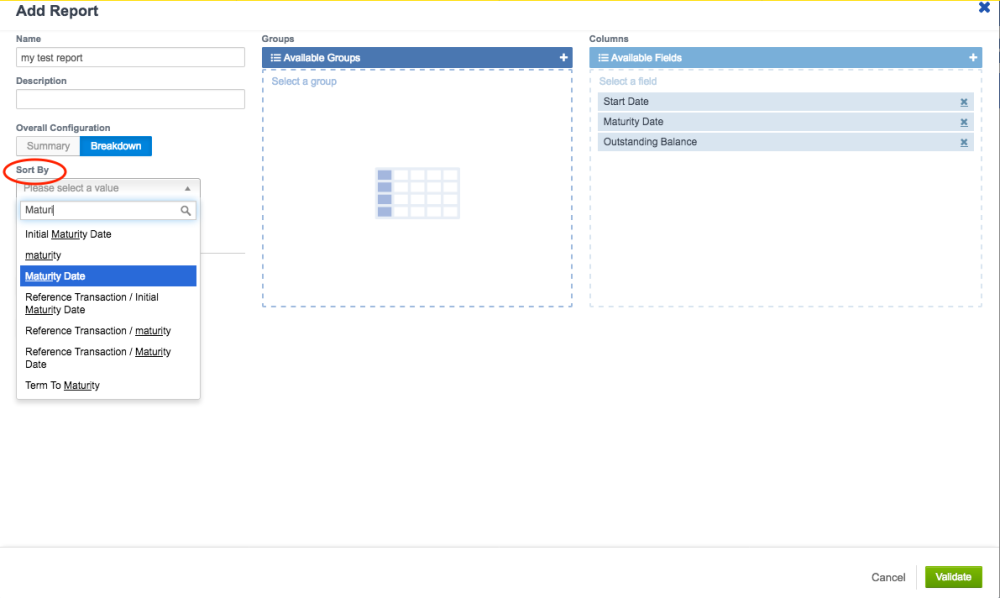 Transaction Management
Improvement on the Management of Facility Agreements
The possibility to create loans with multiple drawing management came with the 2017 Fall Release. With the 2018 Spring Release comes the management of those transactions and lifecycles within the Facility Agreement.
When you are managing a Facility Agreement, you can now book a Drawing lifecycle action at the Tranche level in the 'LifeCycle' menu, and then the system will give you the possibility to split the Drawing Amount between the borrowers and lenders.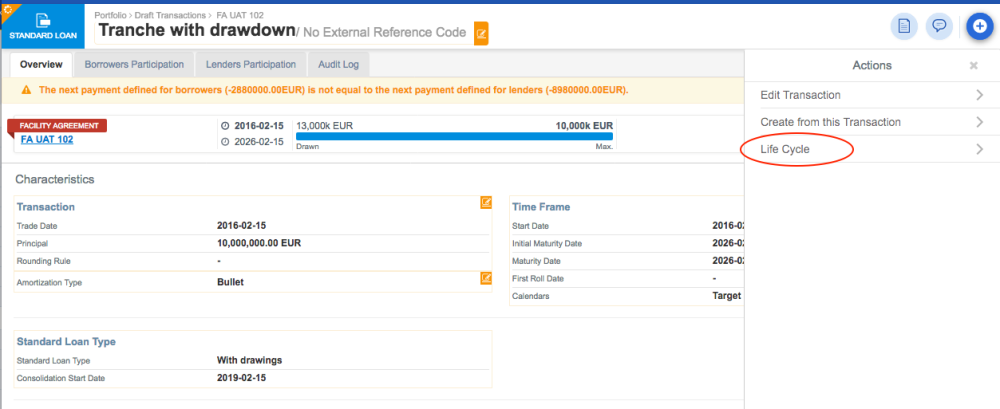 Custom Payment Dates
When you book a deal with uncommon payment date schedule, you are now able to choose a 'Custom' payment date Adjustment.
This feature is available in DRAFT mode. You just have to click on 'Edit Payment Date Adjustment', and choose 'Custom'.
You will then be able to choose the payment dates schedule you want.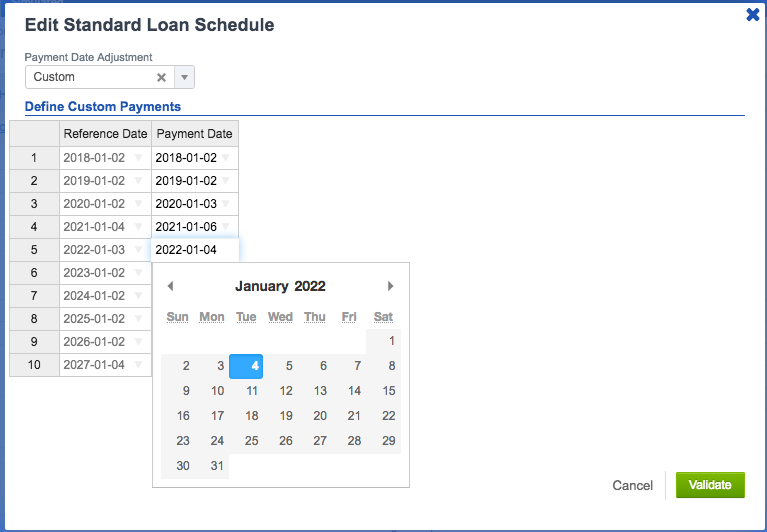 Even More Market Data and Indexes
The system does now support even more currencies and indexes, such as RON or AED currencies, RIBOR or SHIBOR indexes as well as common Euribor average Indexes. Please ask Finance Active if you want to enable these features on your platform.
Indicators
MTM computation for Bermudan Cancellable swaps is available in the Spring Release
New Transactions
Cash Facility 'Balance Mode'
The existing 'Cash Facilities' transaction have been improved. When you create a new Cash Facility, you can now choose between two management mode : either 'Cash Flow Mode' (the existing management mode) or 'Balance Mode' (the new management mode).
You can update the daily balance for each account, either manually or by importing an Excel file.
The system will then manage the related interests payments as well as the related fees (usage or non usage fees).
With this new 'Balance Mode' for Cash Facilities, you are able to manage your Cash Accounts: your external bank accounts as well as your Interco accounts, and have consolidated reporting on all your cash positions, or your net debt profile including the cash positions.
…and Much More!
The scope for mass integration has been broadened to help simplify platform management.
Entities and Third Parties can now be uploaded in Excel format.
Credit Facility Drawings can now be uploaded in Excel format.
Cash Facilities can also be imported in Excel.
You can massively import data in Excel format from the Import Excel dialogue box available from the Add Transaction button.

Coming Soon…
We are currently working on new outstanding features, such as:
Advanced report configuration
Support for CdC Loans (French Social Housing sector)
Support for capitalized Interest loans in Facility Agreement: 

PIYC

 Loans, (Payment If You Can loans)