Covenants in Fairways Debt are agreements specifying actions and thresholds that the borrower must perform and respect. Covenants protect lenders when borrowers do not meet their requirements.
Metrics define the measurements to meet in a covenant. Scenarios enable you to simulate different cases using different metrics.
Log in to your Fairways Debt account and select a customer account, if relevant.
Navigate to

Applications

 >

Debt & Derivatives

>

Entities

.
Click the relevant entity name.
In this example, we log in to the Main City account.

The entity overview displays.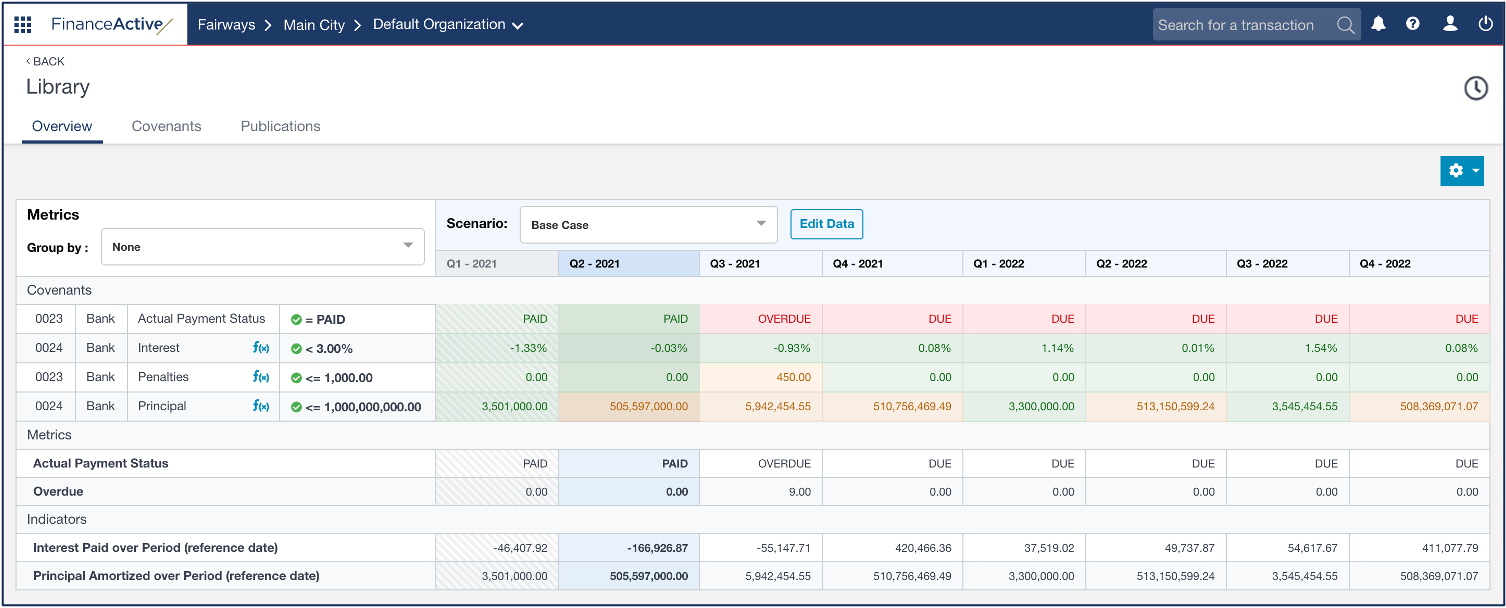 The table is composed of the following sections:
Covenants: All covenants existing in the entity.
Metrics: Manual metrics and their manual data.
Indicators: Indicators used in the formulas with their actual values.
Notes:
The overview does not display all the periods for the covenants defined on a monthly or a quarterly frequency. All the periods can be viewed on the generated Excel file.
A period for a covenant is grayed out in the overview as long as the threshold's start date has not been reached.
If the values of the indicators are not displayed and the currency type selected for the entity is "Transaction Currency", check that the same currency is applied to all transactions in this entity. For more information, see Configure an Entity Scenario. Contact

your Finance Active consultant

for further assistance.

#

Description

A

Simulate specific cases of metrics and edit the metrics for the selected scenario.

Notes:

Any update on the Base Case scenario will automatically affect data on the Metrics tab.
Metrics from the previous periods can only be modified on the Metrics tab.

B

Group metrics by transaction, covenant, or lender.

Note: If a warning icon is displayed, some data is missing for the covenant calculation.

You must then:

Verify that all manual metrics have been completed
Verify that the covenant's threshold start date has been reached

Contact your Finance Active consultant if the icon is still displayed after the above checks.

C

In the Covenants section:

If present, hover over the information icon to display the associated verbiage.
If present, hover over the formula icon f(x) to display the metric formula.

In the Metrics section:

If present, hover over the information icon to display the associated description.

D

Export data to Excel.

E

Click the clock icon to view the change history on a dedicated panel. Contact your Finance Active consultant to enable the Covenants module history beta feature.