The Quick Quotation module in Fairways Debt allows you to quickly simulate your loan requests.
You can then quote several loans in order to compare multiples proposals from one or several banks. The quotation thus allows you to calculate interest and amortization and also get the fair market rate.
Once a quotation is done, you can save it and view its impact on your simulated portfolio.
Note: Contact your Finance Active consultant to enable the Quick Quotation module.
Launch a Simulation
To access the simulation form, navigate to Applications

> Debt & Derivatives > Portfolio and then click Quick Quotation.
All you need is to enter the characteristics of your loan request. You can simultaneously simulate up to 10 quotations at a time.
The simulation form includes a wide selection among the following criteria:
Index types: fixed, floating or revisable rates

Payment frequencies: monthly, quarterly, biannually or annually

Amortization types: bullet, linear, custom or constant annuity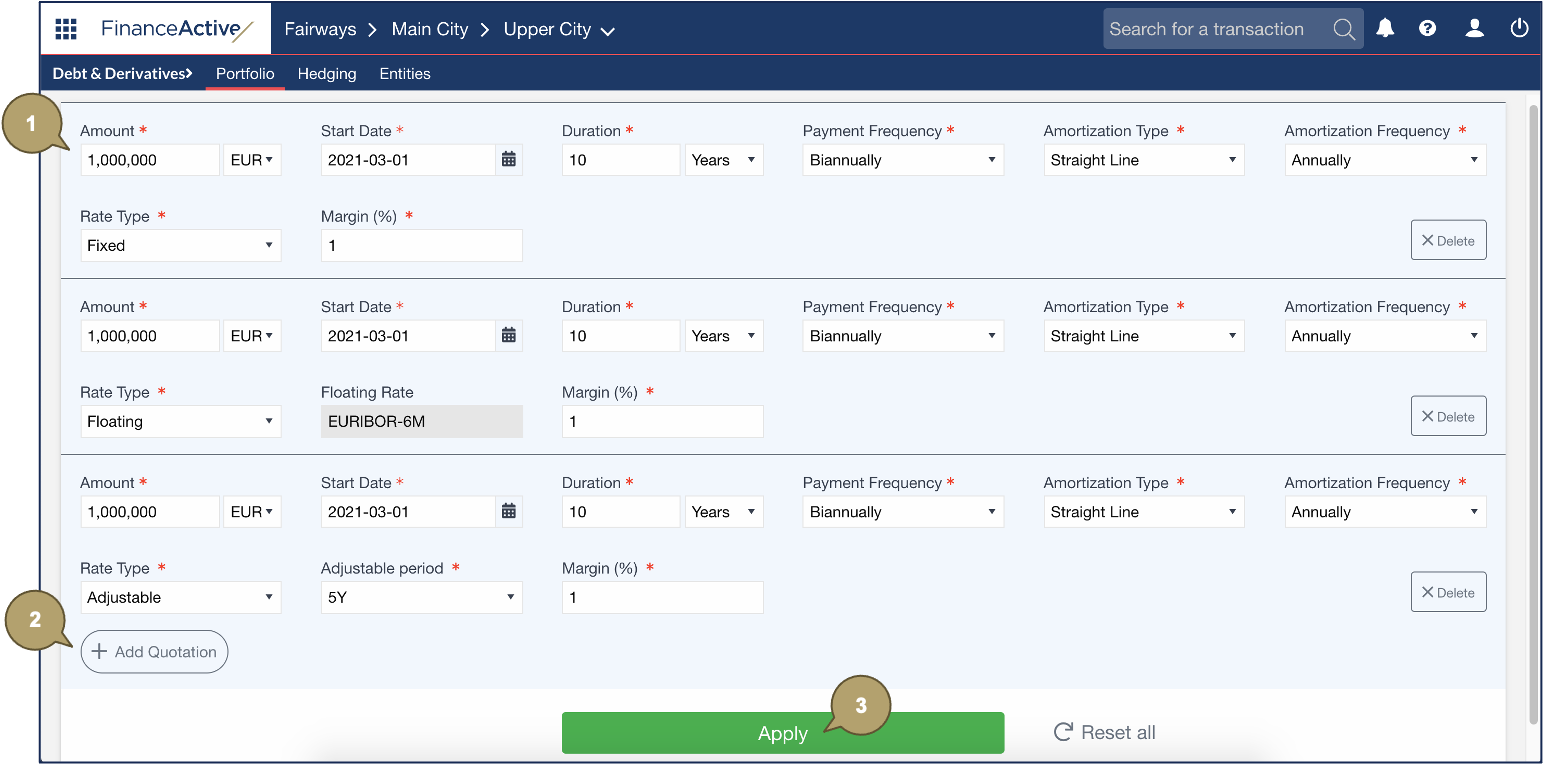 You will then be able to view the key characteristics of the product, including:
a graphical view of the expected interest and amortization amounts
a custom amortization schedule with the relevant payback amounts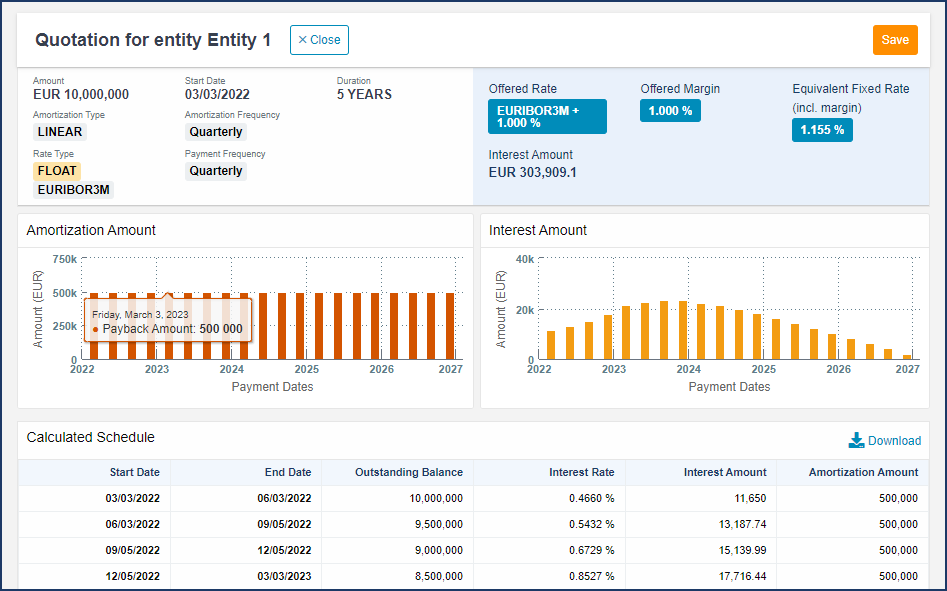 Refer to Simulate Quick Quotations for more details.
Save your Simulation to the Portfolio
An option is available from the quotation results (as shown on the above screenshot) to allow you to save your quotation and then view the impact on your simulated portfolio. You will then only need to specify a reference and the counterparty to which you want to affect the loan.
The loan saved into your simulated portfolio can be used like any other product. You will also be able to add tags to the loan and then link it to other transactions for analysis and reporting purposes.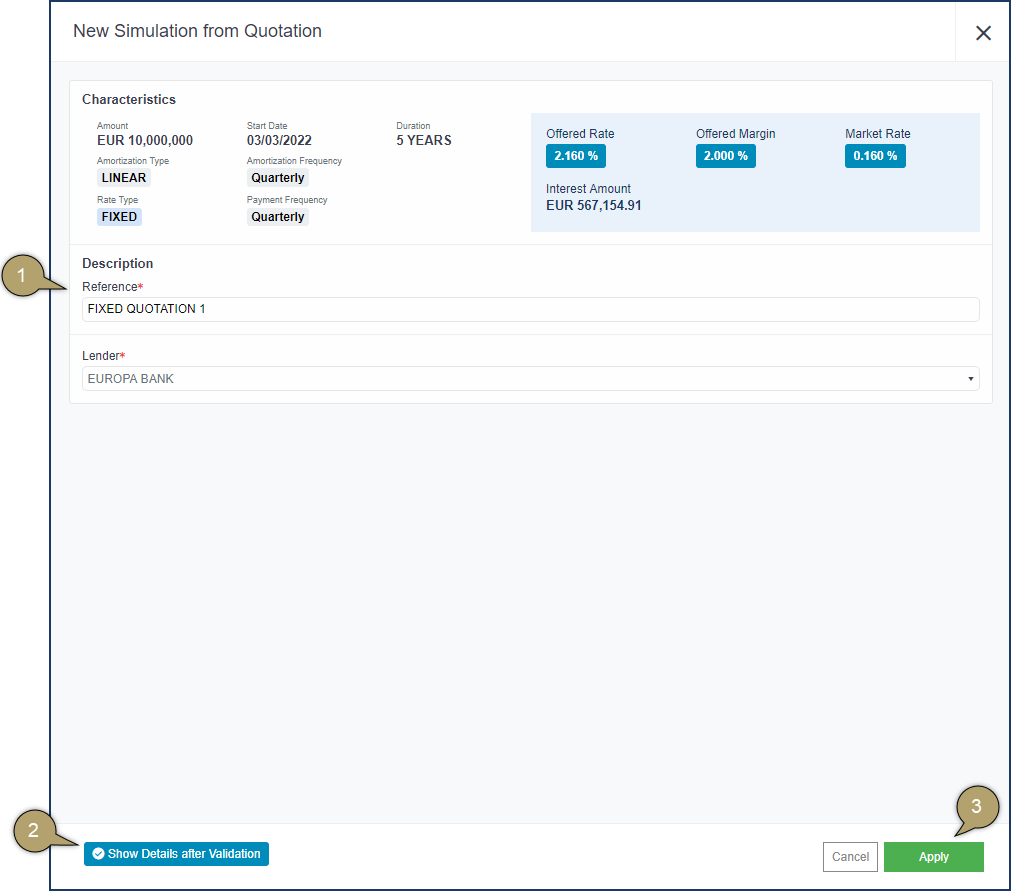 Refer to Transfer a Quick Quotation to the Simulated Portfolio for more details.
See the Quick Quotation section for more details.