Hedging in Fairways Debt presents the relationship of the actual debt and the risk hedging transactions.
The Macro-Hedging analysis offers a view of your macro-hedging interest.
Prerequisites

Contact your Finance Active consultant to:
Log in to your Fairways Debt account and select a customer account, if relevant.
Navigate to

Applications

>

Analysis & Reporting

>

Analyses

.
Click

Macro-Hedging Analysis

.
In this example, we log in to the Main City account.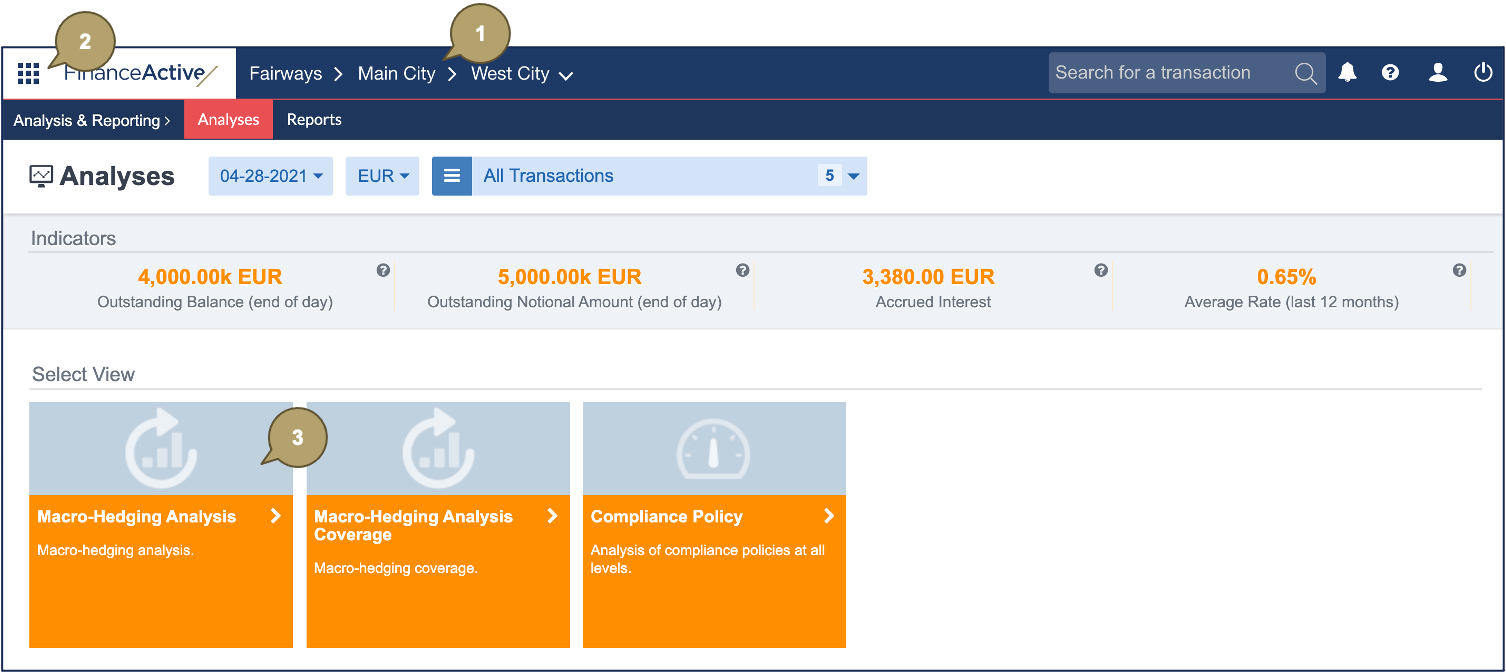 Configure the analysis settings to display relevant data.
| Field | Description |
| --- | --- |
| Market Date | Analysis date. |
| Currency | Currency in which the analysis data displays. |
| Transactions | Refine to include relevant transactions in the analysis. |
| | Display data following a period. |
| Tags for Simulated Portfolio | Filter by tag(s) applied to the simulated portfolio. |
| | Simulate how data would look based on different values. |
| FX Rate Scenario | Apply a simulation using custom Forex rates. |

The analysis displays with the relevant data.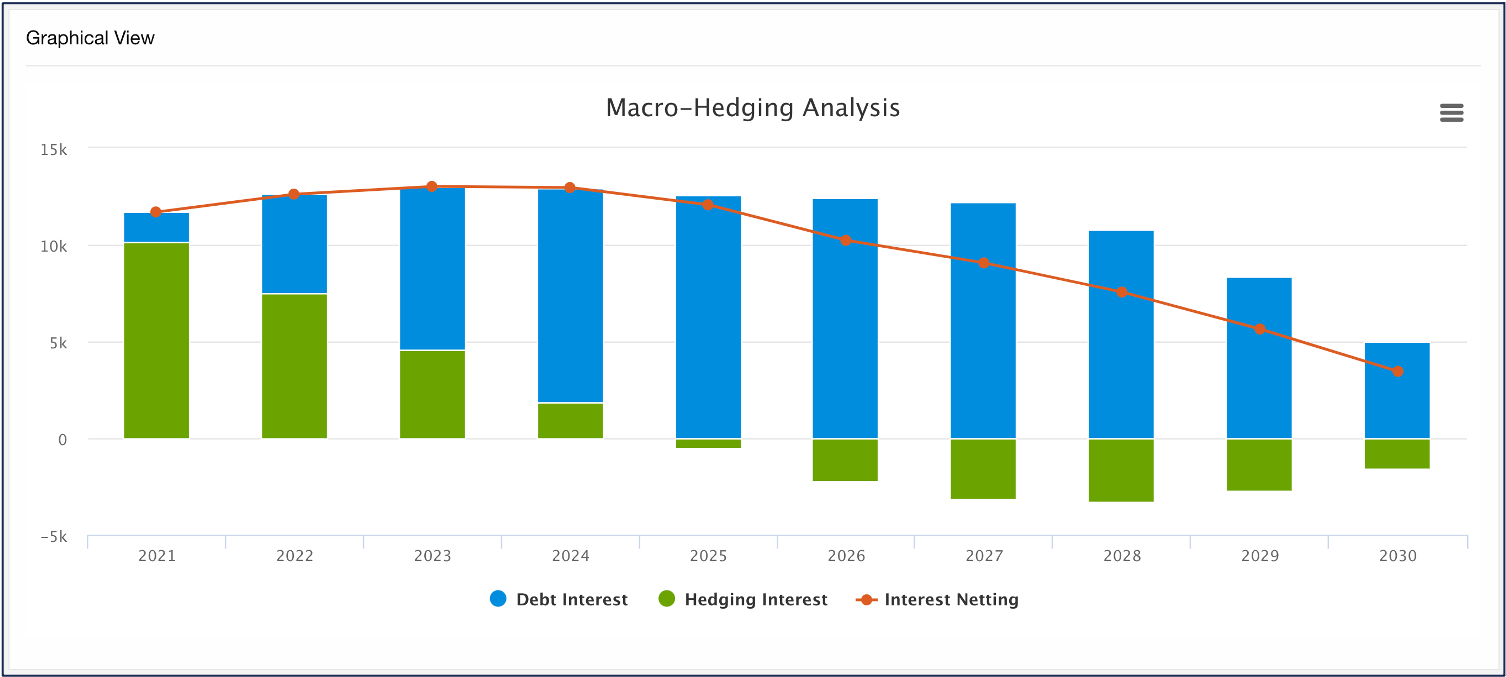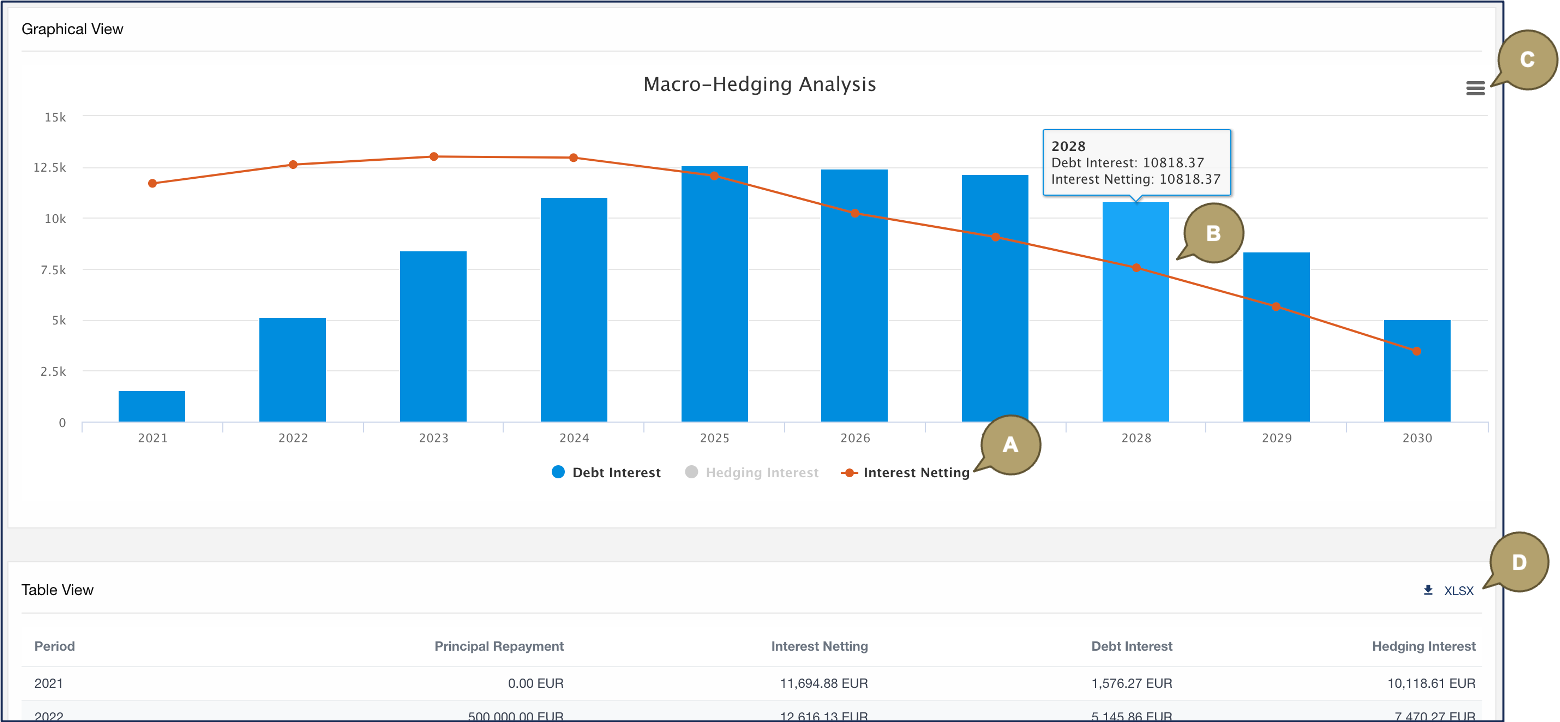 #

Description

A

Filter the data to display:

The criterion is colored: the graph includes the data matching the criterion.
The criterion is grayed out: the graph excludes the data matching the criterion.

B

Hover over a data to display its details.

C

Export the graph to another format, e.g. PDF.

D

Export the table data to Excel.
Time Display

Complete the form with all relevant details.

Field

Description

Frequency

Period frequency.

Note: Different fields display depending on the selection.

Start Date

Start date of the period.

End Date

Note: This field only displays for the Daily frequency.

End date of the period.

Year Count

Note: This field only displays for the Monthly, Quarterly, Triannually, Biannually, and Annually frequencies.

Period length.

Click

Apply

.